Vienna Symphonic Orchestra
VIENNA DIMENSION STRINGS III
Regular price
R 5,150.00
R 0.00
Unit price
per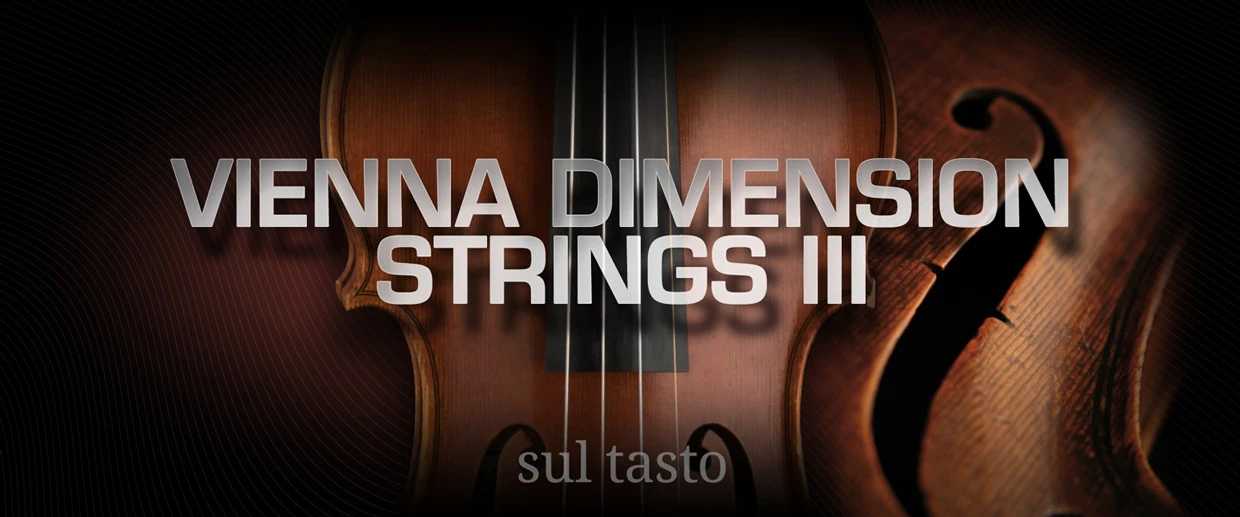 Vienna Dimension Strings III - fragile string sound, whisper-quiet
This collection extends the sound spectrum of the Vienna Dimension Strings by another facet. The instruments were only played "sul tasto" (close to the fingerboard), which brings completely new tonal subtleties into play. In contrast to "con sordino" (with mute), this way of playing is characterized by the fact that the bow is carried very close to the fingerboard, which means that the sound is lower in overtones and thus softer, more noisy and more "breathing", similar to a flute played in pianissimo. The special feature of the Strings dimension , which allows the number of players to be increased step by step, opens up completely new possibilities for starting arrangements out of nowhere ("dal niente") or for ending them as quietly as a whisper ("al niente").
As with Vienna Dimension Strings I & I I , all interactions and irregularities of the live music-making were captured. The players were recorded in four homogeneous groups, with individual microphones being used for each player in the ensemble. This enables automated or manual access to each individual voice and thus the greatest possible performance flexibility, which leads to amazingly authentic sound results.
Amazing realism through imperfection
Even the best musicians do not play in unison in "perfect harmony": One makes the change a little slower, another faster, but perhaps with greater dynamics, etc. The musicians in an ensemble continuously adapt to their fellow players, changing timbre, intensity, vibrato , Intonation, bow speed and much more. All of these interactions happen automatically between the conductor and a good ensemble and ultimately make up the uniqueness and "magic" of a live performance. With Vienna Dimension StringsIndividual dynamic changes of individual players within a group can be easily generated using Velocity Crossfades. You can even designate one or two "weak" players who, for example, play a bit messy, timid or with delayed bets.
With Vienna Dimension Strings III you also get the free Vienna Instruments player. With the optional Vienna Instruments Pro player and its auto humanization function, all imaginable nuances and variations are automatically possible by simply playing on the keyboard and the final sound result amazes with a level of authenticity never achieved before.
Features
Four string groups, played exclusively "sul tasto": 8 violins, 6 violas, 6 cellos and 4 double basses

Recorded in groups, with each musician individually miking - for unlimited, individual access and flexibility

Playing styles included: staccato, détaché, sustenuto, tremolo, tremolo with a fast approach, tremolo slow, sforzato, legato, portamento, legato repetitions and spiccato repetitions.
Individual sound design and a high degree of realism
Create your own personal ensemble sound by determining the volume and position in the mix for each player or desk

Assign controllers such as velocity crossfade and / or expression to the individual players in order to achieve realistic dynamic changes and your own balance within the ensemble

Free placement of individual players or desks on a virtual stage (e.g. when using

 

Vienna MIR Pro

 

or

 

Vienna MIR Pro 24

 

)
Extended functions with Vienna Instruments Pro *
Human performance control

 

in real time within the ensemble - timing and intonation of each player can be controlled individually
Divisi divisions with flexible groups, e.g.

 

B. 4 desks with 2 players each or 2 groups of 4 players each for the violin group
* The purchase of Vienna Dimension Strings III entitles you to download the Vienna Instruments software player for free . With the optional Vienna Instruments PRO and its extended functions such as Polyphonic Legato or Auto Humanization , you can fully exploit the full potential of the Vienna Dimension Strings III .
Scope of the library
Standard Library: Samples 101.466 | Download size 25.4 GB | Installed file size 38.0 GB
• PC Windows 7 (latest Service Pack, 32/64-bit), Intel Core 2 Duo or AMD Athlon 64 X2

• Mac OS 10.10 (or higher), Intel Core 2 Duo
• 4 GB RAM (8 GB recommended)
• ViennaKey ( Vienna Symphonic Library USB Key) or another USB eLicenser (eg from Steinberg or Arturia)
• eLicenser Control Center software (the latest version can be found at www.eLicenser.net
• Free hard disk space according to the library size
Other configurations are possible but are not actively supported.
RECOMMENDED
• PC Windows 7 (latest Service Pack, 64-bit), Intel i5 / i7 / Xeon
• Mac OS 10.12 (or higher), i5 / i7 / Xeon
• Optimal performance in connection with Vienna Instruments PRO
• Fast, separate hard disk ( 7200 rpm or faster)
• AU / VST / AAX Native / RTAS compatible host (also works stand-alone)
• RTAS version requires Pro Tools 7.3 or higher
• 88-key master keyboard
Product activation:
Vienna Instruments and software require a ViennaKey !
The USB dongle from eLicenser (Steinberg, formerly Syncrosoft) is not included in the Vienna Instruments, but must be purchased separately. So you have to order at least one ViennaKey together with your first collection. It is automatically placed in the basket with the first instrument, but can be deleted again if you do not need it. Each ViennaKey can store up to 100 product licenses.
You also need an internet connection on any computer to authorize a ViennaKey.
---