Vienna Symphonic Orchestra
VIENNA INSTRUMENTS PRO 2
Regular price
R 1,110.00
R 0.00
Unit price
per
The next generation of orchestral colors
Vienna Instruments Pro single license
Vienna Instruments Pro will significantly change the way you work. Our tailor-made sample player software contains a wealth of new functions that not only facilitate and accelerate the creative process, but also enrich your music with the liveliness of a live performance. Adapt all presets and playing styles to your personal way of working and load several instruments into a single instance of Vienna Instruments Pro to play them with polyphonic legato. Breathe life into your samples by controlling the playing accuracy of the virtual musicians in real time with a single fader.
Ultra-fast loading times, auto humanization, polyphonic legato, envelope-selective time stretching, editable tuning scales, built-in reverb and EQ as well as the newly designed user interface with basic and advanced displays are just some of the many functions that Vienna Instruments Pro offers powerful headquarters of your orchestral music production. Give your music the spontaneity and liveliness of real music making, which makes every performance a unique experience.
While the original Vienna Instruments Player is still available as a free download with every purchase of a VI-Series library, the optional Vienna Instruments Pro allows you to load all existing and future Vienna Instruments sample collections with a variety of advanced functions. *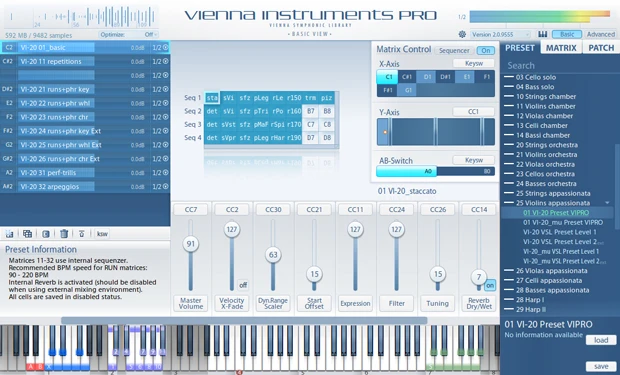 Features at a glance
Sample player software with intelligent performance detection for all VI Series libraries. *

Retina-compatible, scaling of 100% and 200%, to adapt to different screen resolutions

Human Performance Control for influencing the timing and intonation of the virtual musicians.

APP Sequencer - The internal auto-playback and pattern sequencer offers a variety of presets with different orchestral accompanying figures and harmonizations. Trigger rhythmic patterns, runs and fully orchestrated accompaniments simply by pressing a button! **

Envelope-selective time stretching - Easily determine which area of ​​a certain articulation should be processed, e.g. the speed of the portamento or the transient process of a staccato.

Polyphonic legato when playing chords with legato performance patches

Slot rack for up to 16 playing styles or multi-instruments per cell, with controls for volume and power panning for each patch.

Auto Voicing for Multi Instruments.

Ultra-fast loading times, even after a "cold start" of the computer, with bar display of the loading time. You can play the sounds while the patches are being loaded!

Graphical user interface in a new design: "Basic View" for easy navigation, "Advanced View" shows all important parameters in the same window.

Editable tuning scales: Choose from different tunings and scales such as pure or Werckmeister tuning, various Arabic and Turkish scales, Chinese Lü etc., or create your own scales. You can even switch between different scales in real time using the controller!

Time stretching - excellent e.g. B. for runs, staccati, crescendos etc.

Built-in reverb (algorithmically based for low latency).

MIRx Reverb Mixing Extensions (optionally available) - Choose from five optionally available convolution reverb extensions based on the revolutionary MIR (Multi Impulse Response) technology, which is also used in the Vienna MIR Pro and the Vienna MIR RoomPacks.

New ways to switch between playing styles, such as B. "Sequence Map" and "Interval Map".

Volume and EQ can be set separately for each matrix.

Versatile and individual adaptation of patches and articulations to your personal way of working.

Activating / Deactivating Cells - Preload extensive presets with hundreds of articulations in a flash, without using RAM. Certain articulations are only loaded if you activate their cells with a simple double click. Deactivate cells to remove samples from RAM while keeping your patch settings.

Automatic cell naming - instantly recognize all loaded articulations by their cell name.

New browser with search function.

Keyboard display with 128 keys: All key switches with adjustable volume zones and tone ranges of stacked instruments are displayed.

Extended Instrument Pitch Ranges - You can expand the pitch range of each articulation by two whole tones (both in the upper and lower registers) by simply moving the markers on the virtual keyboard.

Free remote app for Apple iOS and Android tablet PCs - Use your tablet as an external MIDI controller for selecting articulations and for real-time control of parameters such as master volume, velocity crossfade, expression or tuning.

Optimized for SSDs - By using solid state drives, the size of the sample buffer memory can be reduced to such an extent that you can load ten times the amount of samples into your RAM - and ten times faster than before.

Number of licenses: 1
*) Please note that only VI Series Collections, Single Instruments and VI Special Editions can be loaded into Vienna Instruments Pro. The Synchron Series and SYNCHRON-ized libraries as well as older sample formats of the First / Pro Edition, the Horizon series and third-party libraries (e.g. for Native Instruments Kontakt) are not supported. The Vienna Imperial piano library belonging to the VI Series cannot be played with Vienna Instruments Pro either, but contains its own free sample player.
**) Registered users of the Vienna Instruments Collections (Full Libraries) have access to the entire range of phrases and runs in the APP Sequencer. However, the Standard Libraries and the VI Special Editions do not contain many of the more specialized articulations that are used for some phrases. These products are therefore limited to the use of the preconfigured chords of the APP sequencer.
PC Windows 7 (last service pack, 32/64-bit), Intel Core 2 Duo or AMD Athlon 64 X2

Mac OS X 10.8 (latest update), Intel Core 2 Duo

for MIRx: see recommended CPU requirements below

2 GB RAM (with MIRx: 4 GB RAM)

ViennaKey (Vienna Symphonic Library USB copy protection plug) or other USB eLicenser (e.g. from Steinberg or Arturia)

eLicenser Control Center Software (use the latest version, available from

 

www.eLicenser.net

 

)
Other system configurations can work, but are not actively supported.
Recommended
PC Windows 7 (last service pack, 64-bit), Intel i5 / i7 / Xeon

Mac OS X 10.9 (last update), i5 / i7 / Xeon

Fast separate hard drive (7200 rpm or SSD drive)

with MIRx: 12 GB RAM or more

AU / VST / AAX Native / RTAS compatible host program (also runs stand-alone)

RTAS version requires Pro Tools 7.3 or higher

AAX version requires Pro Tools 10.3.5 or higher

88 key master keyboard
Product activation:
Vienna Instruments and software require a ViennaKey !
The USB dongle from eLicenser (Steinberg, formerly Syncrosoft) is not included in the Vienna Instruments, but must be purchased separately. So you have to order at least one ViennaKey together with your first collection. It is automatically placed in the basket with the first instrument, but can be deleted again if you do not need it. Each ViennaKey can store up to 100 product licenses.
You also need an internet connection on any computer to authorize a ViennaKey.
---