Vienna Symphonic Orchestra
VIENNA DIMENSION STRINGS II
Regular price
R 6,970.00
R 0.00
Unit price
per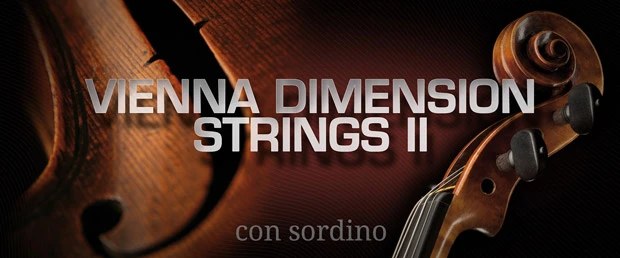 Muted Dimension String Ensembles
Vienna Dimension Strings II complements the original Vienna Dimension Strings I with muted string ensembles.
Dimension Violins (8 Players)
Dimension Violas (6 Players)
Dimension Cellos (6 Players)
Dimension Basses (4 Players
This Collection is the sequel to Vienna Dimension Strings I. It contains nearly the same playing techniques, but these string instruments were exclusively recorded "con sordino" (with mutes), offering all-new sonic subtleties. Playing with mutes dampens the transmission of energy from the strings to the body of the instrument and softens or darkens the sound. The effect of these silky smooth timbres perfectly suits intimate arrangements and emotional ballads, or envelops a sensitive cue with unobtrusive intensity. An insider tip of Hollywood film composers is to blend the normal string sound with muted strings for achieving a very special broad, soft, and warm string environment.
As with Vienna Dimension Strings I, all of the human interactions and slight imperfections of a live performance have been captured. The players were recorded in four homogeneous groups (8 violins, 6 violas, 6 cellos and 4 double basses), but with dedicated microphones for each player, allowing for automatic or manual access to each individual voice and resulting in unlimited performance flexibility and authenticity.
Creating your personal string sound
The Vienna Dimension series of ensemble instrument collections opens a new chapter in the history of sampling technology. With a recording time of four years, Vienna Dimension Strings are by far the most ambitious and intensive production in the history of the Vienna Symphonic Library.
The Vienna team has even recorded each string of each instrument in its full range (approximately one octave plus a fifth), and with the included presets you may easily decide whether to have the musicians play on all strings (with a change to the next string in fifth intervals), or forced playing on a certain string. You can also choose to play with no open strings. Getting a darker or brighter string sound has never been easier and more flexible. What's more, the technique of individual miking is perfectly suited for divisi writing as well! For the violins, preset setups for two groups of four players and four desks of two players are provided.
Stunning realism through imperfection
Over the last decade, sample libraries have become more and more "perfect", sometimes at the expense of human feel. In reality, even the best musicians never play in perfect unison; one makes a change a little slower, another faster, but maybe with more dynamics, and so on. When playing as a group, musicians continually adapt, matching timbre, intensity, vibrato, intonation, bow speed and more. All these interactions happen automatically in a good ensemble, led by a good conductor, and reveal the "magic" of a live performance. With Vienna Dimension Strings, individual changes in dynamic levels of the players within a group can be achieved easily with velocity crossfades. You may even designate one or two "weak" musicians to play sloppy notes, with hesitant or delayed starts, for instance. Both Vienna Dimension Strings I & II include the free Vienna Instruments player. With the optional Vienna Instruments PRO and its Auto Humanization feature, all kinds of nuances and variations are possible while simply playing on the keyboard, making the final result sound absolutely striking.
Features
Four muted string sections of 8 violins, 6 violas, 6 cellos, and 4 double basses.
Recorded in groups, but with individual microphones for each player, for unlimited individual performance flexibility.
The full play range of each string was captured (one octave plus a fifth).
Individual Timbre and Ultimate Realism
Sculpt your ensemble sound by adjusting level and position in the mix for each player, or desk, in order to create your personal string sound.
Assign individual controllers such as velocity crossfade and/or expression for each player for realistic dynamic changes and customized balance within the ensemble.
Ready-made presets for selecting the individual strings of each player of a group – "force strings" (all notes will be performed on the preferred string, e.g., for the violins: G, D, A, E), "avoid open strings" and "use open strings".
Free positioning of individual players or desks on a virtual stage (e.g., when using Vienna MIR PRO or Vienna MIR PRO 24, sold separately).
Size:
Sample Amount 265,146
Download File Size 45.4 GB
Installed File Size 71.0 GB
Advanced features with Vienna Instruments PRO*
Instant Human Performance Control within the ensemble – timing and intonation of each player can be adjusted individually.
Divisi sections with flexible groupings, e.g., 4 desks with 2 players each or 2 groups with 4 players each for the violin section.
* Your purchase of Vienna Dimension Strings II entitles you to download our free Vienna Instruments software player. By using the optional player Vienna Instruments PRO with its Polyphonic Legato and Auto Humanization features you'll make the most of Vienna Dimension Strings II.
 Requirements
• PC Windows 7 (latest Service Pack, 32/64-bit), Intel Core 2 Duo or AMD Athlon 64 X2

• Mac OS 10.10 (or newer), Intel Core 2 Duo
• 2 GB RAM (4 GB recommended)
• ViennaKey (Vienna Symphonic Library USB protection device) or other USB eLicenser (e.g., from Steinberg or Arturia)
• eLicenser Control Center software (get the latest version from www.eLicenser.net
• free hard drive space according to the library size
Other configurations might work but are not actively supported.
RECOMMENDED
• PC Windows 7 (latest Service Pack, 64-bit), Intel i5/i7/Xeon
• Mac OS 10.12 (or newer), i5/i7/Xeon
• Optimum performance in combination with Vienna Instruments PRO
• Fast separate hard drive (7200 rpm or faster)
• AU/VST/AAX Native/RTAS compatible host (also works stand-alone)
• RTAS version requires Pro Tools 7.3 or higher
• 88 key master keyboard
Product activation:
Vienna Instruments require the ViennaKey!
This USB protection device by eLicenser (by Steinberg, formerly Syncrosoft) is not included in any collection, it is a separate item you have to get additionally. So you'll have to order at least one ViennaKey with your first purchase. It will be put inside the shopping basket automatically but can be deleted if not required. Customers who order the complete SYMPHONIC CUBE will get one ViennaKey for free (not shown in the basket). If you already own another eLicenser USB protection device (e.g., from Steinberg or Arturia), you can use it for the VIENNA INSTRUMENTS, too. Each dongle can store up to 100 product licenses.
Additionally an internet connection on any computer is required to authorize a VSL product.
---