Vienna Symphonic Orchestra
SYNCHRON STRINGS PRO
Regular price
R 8,990.00
R 0.00
Unit price
per
Synchron Strings Pro - perfect string sound
Synchron Strings Pro opens a new chapter in the history of sampled string ensembles. The new collection combines artistic expression, diverse articulations, natural note transitions and outstanding sound quality in a resource-friendly, easy-to-use product.
Let the musicians play
How notes fade in, develop, transition to the next note and fade out are essential indicators of the authenticity of musical performances. By developing an evolved sampling system, deriving thousands of articulations from beautiful real-life performances, our well-rehearsed team of musicians and engineers at Synchron Stage Vienna have succeeded in preserving the supreme artistry of Vienna's brilliant string players. The result elevates these string ensembles to the next level of liveliness and expressive potential.

Long notes
The magic of strings lies in the way experienced and well-rehearsed ensembles play and phrase a note. Synchron Strings Pro therefore provides various originally played attack and release variants for all long notes, legati and portamenti, which are easy to use due to the library's homogeneous articulation structure. Whether a Marcato attack, a gentle swing in or an even softer crescendo - you can hear what the musicians have played without having to reshape the sound with the help of MIDI controllers. The same applies to the espressivo tones, whose originally played phrasing impresses with a naturalness that is fundamentally different from MIDI-manipulated notes.
Fast performances
A major challenge for virtual orchestras is always fast to very fast passages from string ensembles. With a new approach to recording, the VSL team not only put the mental resilience of the musicians to the test, but also their skills. After the ensembles recorded several thousand quick phrases in a stressful situation like regular orchestral recordings, the team of editors was able to extract short elements - with the energy and authenticity of live performances. These "agile" legatos make it possible to play all possible runs and figures in all tempos, with the natural flow and authentic note transitions that the synchronous player automatically provides.
More articulations
Synchron Strings Pro contains some articulations from Synchron Strings I (staccati, legati senza and molto vibrato, long notes, flautandi, etc.), but most of them are new recordings. The section of short notes contains Spiccati (an "airy" alternative to the staccati), "bold" and "agile" staccati (for slower or faster tempi), as well as détachés, which thanks to the sophisticated release trigger technology of the synchronous player can also be played for a shorter time than the original recording length.
The flautando style of playing the Synchron Strings I was very much appreciated by many and was often used for pads, so that legato transitions have now been added so that this very smooth sound can also be used for melodies. Sforzati, Crescendi and Diminuendi can also be played shorter than their recording length, which makes them very versatile. Ponticello (staccati, sustains, legati, tremolio), col legno and harmonics round off the rich palette of the included playing styles.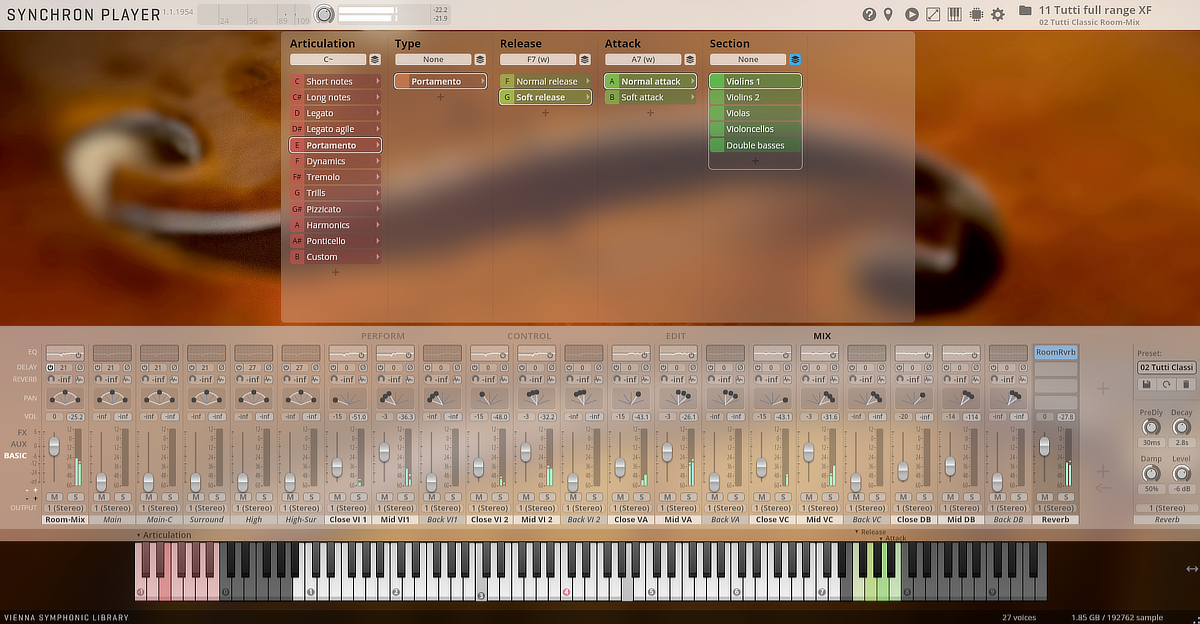 Presets
Synchron Strings Pro not only offers individual presets for each of the five ensembles, but also tutti mappings and octave combinations. All articulations of the individual ensemble presets can be found in the tutti presets, including polyphonic legato for layered instruments. The tutti presets are available in the original voicing over a range of six octaves and in a denser voicing over four octaves. The octave combinations each consist of two ensembles that play in octaves, e.g. first and second violins, violas and cellos, cellos and double basses, etc.
Multiple microphone positions
In order to capture the spectacular surround sound of the Synchron Stage, a total of eight separate, phase-coherent microphone arrangements were used. All signals were recorded at the same time and offer a large amount of sound design freedom when using the library. By mixing individual or all microphone positions, you can design the surround sound individually according to your ideas and requirements, from intimate and direct to epic and broad sound.
The groups of 1st violins (14), 2nd violins (10), violas (8), cellos (8) and double basses (6) were recorded separately at their typical seating position in the orchestra. Thanks to the wide range of discrete recording channels, you can shape the string sound according to your ideas and output it in stereo, 5.1 surround up to 9.1 Auro 3D (or any other 3D audio format such as Dolby Atmos).
Microphone placement
Both the Standard Library and the Full Library from Synchron Strings Pro contain the same playing styles and only differ in the number of microphone positions available:
1. Close Mic (Mono) Standard & Full Library
2. Mid Mic - Front row of each ensemble (L / R) Standard & Full Library
3. Back Mic - Second row of each ensemble (L / R) Full Library Only
4. Main / Room Mic - Decca Tree Stereo (L / R) Standard & Full Library
5. Main / Room Mic - Decca Tree Mono (Center) Standard & Full Library
6. Main Surround - Stereo (L / R) Full Library Only
7. High Stereo (3D) - Stereo (L / R) Full Library Only
8. High Surround (3D) - Stereo (L / R) Full Library Only
The main surround microphone arrangement can also be used instead of the main / room mics for a particularly wide, spatial image. Mixing the surround signals with the other microphone signals creates a denser, richer overall sound in stereo applications.
"Room Mixes" are CPU and RAM-saving stereo mixes by combining the signals of the Decca tree and the surround microphones, with which you can start immediately "out of the box". A large number of other mixer presets are available in the categories "Decca Tree Multi-Mic", "Surround to Stereo Downmix" and "Surround".
System requirements
PC Windows 7/8/10 (last update, 64-bit), Intel Core 2 Duo or AMD Athlon 64 X2

macOS 10.10 (last update) or higher, Intel Core 2 Duo

SSD (M2, Sata 6 or USB3 / 3.1 UASP support) for the sample content

8 GB RAM (16 GB or more recommended)

AU / VST / AAX Native compatible host program (AAX version requires Pro Tools 10.3.5 or higher)
Other system configurations can work, but are not actively supported.
Recommended
PC Windows 7/8/10 (last update, 64-bit), Intel i5 / i7 / Xeon

macOS 10.12 (or higher), Intel i5 / i7 / Xeon

16 GB RAM or more, depending on your registered products

88 key master keyboard
This product requires activation!
This can either be done on your computer (without additional hardware) or alternatively on an iLok USB dongle that can be purchased separately . The iLok USB dongle can be plugged into any computer in order to use the protected software on several computers. Your licenses can be managed as you like using the iLok License Manager and protected against loss or theft by additional insurance ( Zero Downtime with TLC ).
To activate the product you need an internet connection on any computer and a free user account on www.ilok.com . Use the Vienna Assistant to download and install your software products and sample libraries authorized via iLok  .
Please check with the software manufacturer which iLok version is required as a minimum if you want to use a hardware iLok!
---