Vienna Symphonic Orchestra
VIENNA SPECIAL EDITION VOL 1 PLUS
Regular price
R 5,760.00
R 0.00
Unit price
per
Special Edition Volume 1 PLUS




Articulation Expansion to Vol. 1
The Special Edition Volume 1 PLUS  (identical in content to the previous "Special Edition PLUS Standard Library") contains additional articulations for the string, brass and woodwind instruments contained in the Special Edition Volume 1 and is designed as an extension.
As a user of the Special Edition Volume 1 you will find cheap, fast ways to play that you may have missed so far. The samples of the Special Edition Volume 1 PLUS are not included in the Special Edition Volume 1, but have been compiled especially for this. During e.g. B. the solo violin of the Vienna Special Edition Volume 1 contains the styles of staccato, détaché, sustained, sforzato, tremolo, pizzicato, legato and portamento, the PLUS Collection extends these with short détachés, fortepiano, Bartók-Pizzicato, col legno, semi and whole-tone trills, repetition performances (legato & spiccato), fast repetitions (150, 170, 190 bpm), artificial harmonics (staccato & sustained) and ponticello (staccato, sustained, tremolo).
Please note that the Special Edition Volume 1 PLUS contains some matrices that also use patches from the Special Edition Volume 1. To load these matrices, it is therefore necessary to install the Special Edition Volume 1!
Included instruments
Solo violin

Solo viola

Solo cello

Solo double bass

Violin ensemble (14 musicians)

Viola ensemble (10 musicians)

Violoncello ensemble (8 musicians)

Double bass ensemble (6 musicians)

Piccolo

Flute 1

French oboe

English horn (French construction)

Clarinet in Bb

Bass clarinet

bassoon

Contrabassoon

Triple horn

Horn ensemble (4 musicians)

Trumpet in C

Trumpet Ensemble (3 musicians)

Tenor trombone

Trombone ensemble (3 musicians)

Bass trombone

tuba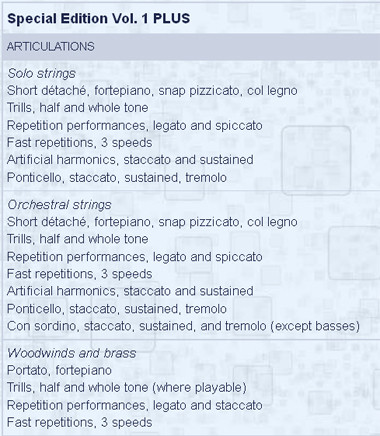 PC Windows 7/8/10 (last update, 32/64-bit), Intel Core 2 Duo or AMD Athlon 64 X2

macOS 10.10 (last update) or higher, Intel Core 2 Duo

2 GB RAM (4 GB recommended)

VIENNA KEY (Vienna Symphonic Library USB copy protection plug) or other USB eLicenser (e.g. from Steinberg or Arturia)

Free space according to the library size
Other system configurations can work, but are not actively supported.
Recommended
PC Windows 7/8/10 (last update, 64-bit), Intel i5 / i7 / Xeon

macOS 10.12 (or higher), Intel i5 / i7 / Xeon

4 GB RAM

SSD (M2, Sata 6 or USB3 / 3.1 UASP support) or separate HDD (7200 rpm or faster)

AU / VST / AAX compatible host program (also runs stand-alone)

AAX version requires Pro Tools 10.3.5 or higher

88 key master keyboard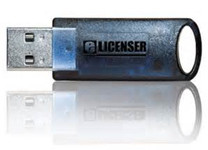 Product activation:
Vienna Instruments and software require a ViennaKey !
The USB dongle from eLicenser (Steinberg, formerly Syncrosoft) is not included in the Vienna Instruments, but must be purchased separately. So you have to order at least one ViennaKey together with your first collection. It is automatically placed in the shopping basket with the first instrument, but can be deleted if you do not need it. Each ViennaKey can save up to 100 product licenses.
You also need an internet connection on any computer to authorize a ViennaKey.
---