Best Service
THE ORCHESTRA COMPLETE 2
Regular price
R 9,590.00
R 0.00
Unit price
per
The Orchestra Complete 2 - New Features - New Instruments - New Presets
"The Orchestra Complete 2", the flagship of the "The Orchestra" product family, expands the strengths of the original 80-piece orchestra with additional articulations and powerful features. In addition to "The Orchestra", it now also includes the separately available products "Strings of Winter" and "Horns of Hell".
The sound of a colossal symphony orchestra is available to you in this revolutionary all-in-one package. With the groundbreaking ensemble engine, we have created the possibility for you to turn your ideas into music with ease.
Immediately playable |

 

Fully customizable |

 

Surprisingly easy.
The Orchestra Complete 2 expands the entry-level instrument "The Orchestra" with additional instruments, presets and important extended functions.
Horns Of Hell - More than 65 expressive brass articulations and 120 incredibly powerful presets, including an extensive organ.

Strings Of Winter - 60 string articulations, two ethnic string ensembles and all the additional content from "Strings Of Winter".

Additional presets and multi-instruments - More than 150 additional presets invite you to discover new sounds from the extensive range that only "The Orchestra Complete 2" offers.

 

In total, more than 475 playable orchestral moods and patterns are available.
Redesigned Preset Browser - One of the biggest innovations in "The Orchestra Complete 2" is the brand new Preset Browser.

 

Explore the huge range of presets with intuitive filters and categories.

 

Finding the right presets for the mood or style you want has never been easier.
MIDI Export The Orchestra Complete 2 includes our highly regarded MIDI export function.

 

Patterns and arrangements created by the engine can be exported to separate MIDI tracks, which opens up endless possibilities.

Frequently Requested Features - We have redesigned the original Ensemble engine and implemented smaller, often requested features such as a switchable GUI and expanded MIDI controller assignment.
The Core - The Ensemble Engine
The Ensemble Engine uses a number of independent arpeggiators and envelopes that are heavily inspired by the Sonuscore Origins series.
Complex arrangements from simple chords!
Create vibrant rhythms and even inspiring full arrangements from any combination of notes. All of this without relying on pre-recorded phrases - you are always in full control. It works no matter what chord or note you play. Thanks to the shortest loading times, you have uncomplicated access to a huge number of presets from a single source.
Independent arpeggiators and envelopes enable lively and powerful orchestral moods.

Load 5 different instruments into the slots and play them independently

Each slot can be assigned to a module

Load percussion instruments into an arpeggiator to create pulsating rhythms.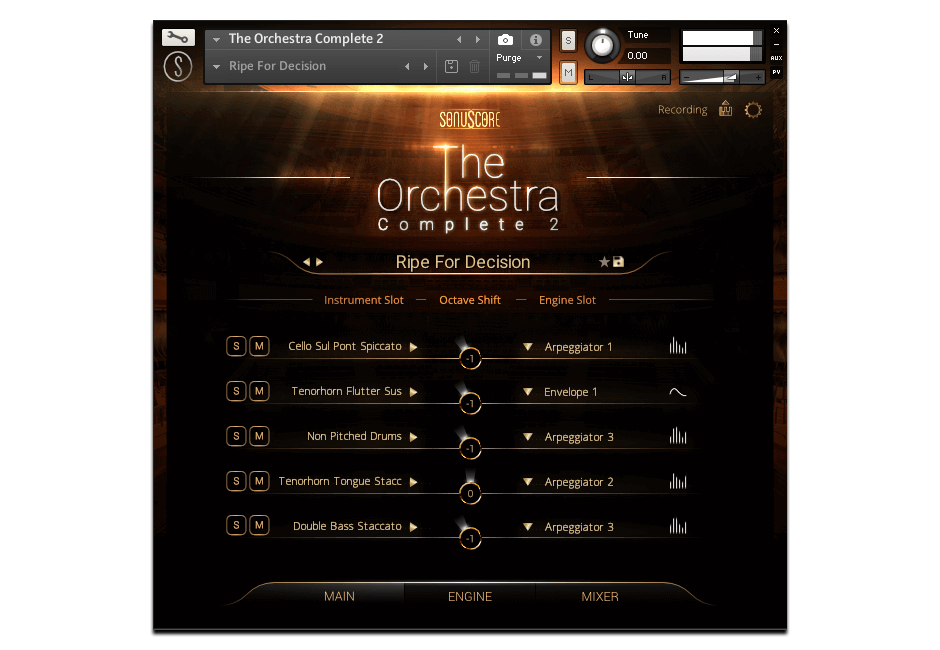 Get results faster with the following categories
Choose from 300 presets and the following categories:
Orchestral Colors - The Orchestral Colors presets are handy compilations that can be played live on your keyboard. Just a few keys produce a rich orchestral sound.

Orchestral Rhythms - The orchestral rhythms contain playable standard figures of individual instrument groups, which are played by our ensemble engine.

Animated Orchestra - The animated orchestral presets go even further, creating complex orchestrated rhythms from every note played. This is where the magic begins!
Export your individual results
MIDI Drag and Drop - Drag and drop the result of your work into your DAW. Use the performance of the ensemble engine to change the sound with other instruments from your personal collection or change notes, combine different patterns - the possibilities are almost unlimited.
Take full control of the ensemble
Work quickly and easily with our intuitive user interface.
The "Engine" page gives you access to all of the individual controls for each of the five loaded instruments and their control modules. Short notes can be arranged with the arpeggiators, while held notes can be shaped with envelopes. Create orchestral arrangements the way you imagined them. .
Arpeggiator - The arpeggiator creates fascinating melodic patterns that add a rich and lively orchestral feel to your project. Change the arpeggiator pattern with the rhythm stepper. If necessary, you can modify almost any parameter to keep full control of your orchestra.

Velocity Envelope -  Shape Your Sustain Sounds - The envelope adds repetitive dynamic movement to a note being carried. The core is the envelope shape, which can be drawn freely.
Play the instruments completely freely
Build complete and detailed orchestrations from scratch. Play your ideas and melodies freely with the individual instrument patches.
In addition to the ensemble instrument, "The Orchestra Complete 2" also contains 152 patches for the individual instruments. All standard sections and articulations of a symphony orchestra are included, including percussion and bonus instruments.
Ensemble Multi Patches: Unleash the full orchestral power
Multis take the Ensemble Engine even further towards instant playability and epic sound. By combining several instrument instances, complex orchestral arrangements are created in the simplest possible way.
There are also fully playable orchestral multis for single articulations, which are perfect for quick sketching and composing. Orchestral Rhythm and Animated Orchestra Multis combine multiple instances of the Ensemble Engine to create even more complex patterns.
The samples: rough and angular - no "polished" sound
"The Orchestra" was recorded with the aim of sounding a bit rougher and more "honest" than the usual orchestral Hollywood sound. "The Orchestra Complete 2" is a real alternative and promises unadulterated and powerful sounds, punch and a lively musical experience.
The instruments of "The Orchestra" were recorded in Budapest in the renowned Studio 22, mixed and processed with great attention to detail. In this way, the different sections merge perfectly in the same room. All essential articulations are available, including playable real legato samples and multiple repetitions for short articulations.
Choose your favorite user interface
"The Orchestra Complete 2" loads every instrument with the corresponding user interface by default. If you prefer a different design, you can always change it in the instrument settings.

Key features
Breakthrough Ensemble Engine

Play freely or create stunning orchestral colors with simple chords

Complete set of standard articulations for all instruments

True Legato Interval Sampling

302 ready-to-go ensemble presets

135 multi-rack patches

14.3GB of data (18.2 GB uncompressed)

24600+ individual samples

Fast loading times
The Orchestra: a huge orchestra in your hands!
"The Orchestra" was developed by Sonuscore / Dynamedion, the makers of Trinity Drums and NI Action Strings, Action Strikes and Emotive Strings, for best service.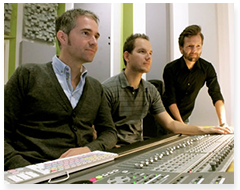 Dynamedion was founded in 2000 by Tilman Sillescu and Pierre Langer, two composers with degrees in music. With a steadily growing number of contracts and a growing customer base, Dynamedion is now a leader in soundtrack composition and sound design on the European computer game market. In 2005 Dynamedion produced the very successful first benchmark live orchestral recordings for a German game soundtrack, setting the standard for major projects in the industry.


With numerous other orchestral productions for the video game industry, Dynamedion has truly earned its reputation for unsurpassed quality and integrity in this area.
Minimum Free Kontakt Player or Full Kontakt Version 6.2.2 required
This product is delivered with the current NI Kontakt Player!

 

Please refer to the product description to find out which contact version you can use the product with.
They want more?
This library entitles you to purchase the reduced crossgrade of the full version of KONTAKT from Native Instruments.
The following list shows whether the corresponding Kontakt version is compatible with your operating system:
Mac
Contact 4:
    OS X 10.6 & 10.7 = up to 4.2.4

    From OS X 10.8 = no longer supported
Contact 5:
    OS X 10.6 = up to 5.0.3

    OS X 10.7 = up to 5.3.1

    OS X 10.8 = 5.0.3 - 5.5.1

    OS X 10.9 = 5.3.0 - 5.6.6

    OS X 10.10 = 5.3.0 - 5.7.3

    OS X 10.11 = 5.5.1 - Latest

    Mac OS 10.12 = 5.6.1 - Latest

    Mac OS 10.13 = Latest

    Mac OS 10.14 = Latest

    Mac OS 10.15 = Latest
Contact 6:
Mac OS 10.12 - 10.15 (latest update)
Windows
Contact 4:
    XP = until 4.2.4

    Vista = up to 4.2.4

    Windows 7 = up to 4.2.4

    Windows 8 & 10 = no longer supported
Contact 5:
    XP = up to 5.2.0

    Vista = up to 5.2.0

    Windows 7 = Latest

    Windows 8 & 10 = newest
Contact 6:
Windows 7, 8 or 10 (latest service pack, 64-bit only)
FOR "CONTACT" APPLIES TO ALL SYSTEMS:
1GB free hard disk space for the application

additional hard disk space according to the library size
INTERFACES
Stand-Alone | VST | Audio Units | ASIO | CoreAudio | WASAPI | AAX Native (Pro Tools 10 or higher)
You need Native Access to install, register, activate, and update your products. Launch the Native Access software and log in with your Native Instruments credentials to begin setup.
For successful activation, Native Access requires a working internet connection.
An offline activation  on another computer can NOT be performed. 
AAX native, AU, KontaktPlayer powered, Mac, NKS support, RTAS, Standalone, VST, Win
Download size: 14.81 GB
---