Best Service
THE ORCHESTRA
Regular price
R 6,040.00
R 0.00
Unit price
per
The Orchestra is a revolutionary Kontakt Player Library, recorded with an 80-strong orchestra.

 

The heart of this instrument is the groundbreaking and specially developed Ensemble Engine, with which you can quickly and easily turn your ideas into music.
Sonuscore: "We have found a way to revolutionize the way you compose complex orchestrated music. It is a completely new approach to create natural and multi-faceted orchestral moods and rhythms quickly and easily."
The idea behind it
Orchestra libraries have become more and more complex in recent years. The library manufacturers have captured every nuance of symphonic orchestras in countless articulations. But those who work under time pressure are not necessarily well served.
With this library we have brought a new, very simple approach to orchestral composition to life. Use these innovative tools to either create quick ensemble sketches with minimal effort or to compose complex orchestral arrangements in detail.
Make your orchestral canvas as wide, as colorful and as detailed as you want.
Your ideas, your music - all in one instrument.

The core: the ensemble engine
The Ensemble Engine is based on a number of independent arpeggiators and envelopes that are heavily inspired by the Sonuscore Origins series. Create pulsating rhythms and inspiring full arrangements with any combination of keys. All of this without accessing pretended phrases - you are always in full control. It works no matter what chord or notes you play.
With minimal loading times and a large number of presets, you can always create new orchestral figures and shapes - and all of that: right out of the box.
Independent arpeggiators and dynamic envelopes create lively and compelling orchestral colors

Load different instruments into 5 independent slots and play them together.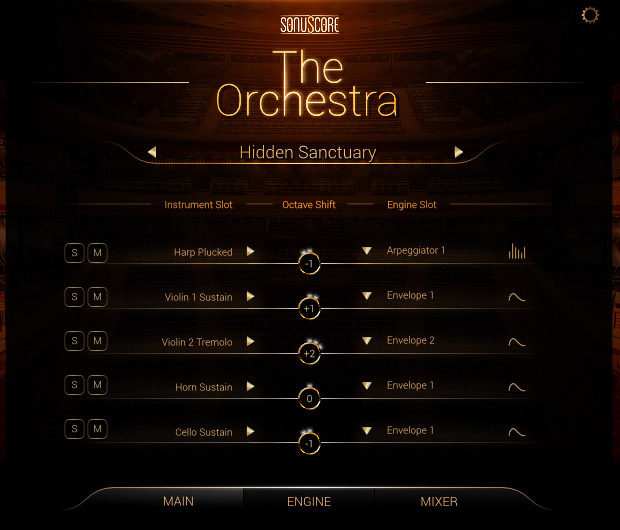 Compose faster with complete groups of instruments
Choose from 192 presets in three categories
Orchestral Colors
The Orchestral Colors presets are practical combinations of instruments that you can play live on your keyboard.

Orchestral Rhythms
Orchestral Rhythms are useful and easily playable figures for different orchestral parts, based on our Ensemble Engine.

Animated Orchestra
The animated orchestra presets go even further, creating complex orchestrated rhythms from every note played. This is where magic comes in!

Playing the instruments:
Of course, all of the individual instrument patches are also available to you for free melody design. In addition to the ensemble instrument, The Orchestra also contains 88 single instrument patches for all standard sections and articulations in a symphonic orchestra, including percussion and a bonus choir.
Or unleash the full power of the orchestra with over 75 multi-track patches:
Multis enable you to generate even more spontaneous, immediate sense of achievement with the Ensemble Engine, as several "The Orchestra" patches are used here.
There are full orchestral multis with individual articulations for quick sketching or for layering with other patches. Animated multis combine multiple instances of the Ensemble Engine for fantastically complex results.
The samples: rough and angular - not "polished smooth"
The Orchestra was recorded with the aim of sounding a bit rougher and more "honest" than the usual orchestral Hollywood sound. The Orchestra is a real alternative and promises unadulterated and powerful sounds, punch and a lively musical experience.
 The Orchestra's instruments were recorded, mixed and processed with great attention to detail in Budapest in the renowned Studio 22. The musicians were recorded in a traditional sitting position in the same room, in this way the different sections merge perfectly. All the essential articulations are there, including playable true legato samples and multiple round robins for short articulations.
Key features:
Groundbreaking ensemble engine

Freely playable instruments or breathtaking orchestral moods and rhythms

Complete set of standard articulations

True Legato Interval Sampling

192 ready-to-play ensemble presets

75 multi-rack patches

~ 6.9 GB lossless compressed samples

16500+ individual samples

Fast loading times

min. Contact Player 5.7.0 required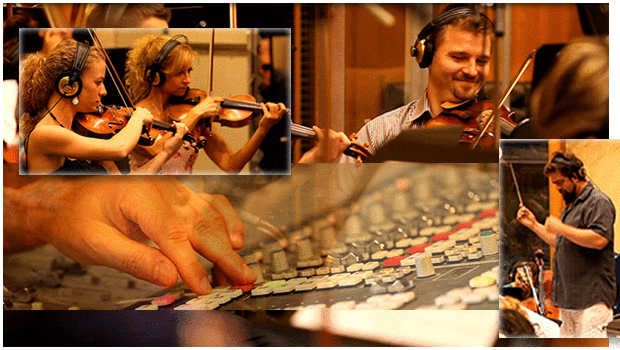 The Orchestra: a huge orchestra in your hands!
The Orchestra was developed by Sonuscore / Dynamedion, the makers of Trinity Drums, and NI Action Strings, Action Strikes and Emotive Strings, for best service.
This product is delivered with the current NI Kontakt Player!

 

Please refer to the product description to find out which contact version you can use the product with.
They want more?
This library entitles you to purchase the reduced crossgrade of the full version of KONTAKT from Native Instruments.
The following list shows whether the corresponding Kontakt version is compatible with your operating system:
Mac
Contact 4:
    OS X 10.6 & 10.7 = up to 4.2.4

    From OS X 10.8 = no longer supported
Contact 5:
    OS X 10.6 = up to 5.0.3

    OS X 10.7 = up to 5.3.1

    OS X 10.8 = 5.0.3 - 5.5.1

    OS X 10.9 = 5.3.0 - 5.6.6

    OS X 10.10 = 5.3.0 - 5.7.3

    OS X 10.11 = 5.5.1 - Latest

    Mac OS 10.12 = 5.6.1 - Latest

    Mac OS 10.13 = Latest

    Mac OS 10.14 = Latest

    Mac OS 10.15 = Latest
Contact 6:
Mac OS 10.12 - 10.15 (latest update)
Windows
Contact 4:
    XP = until 4.2.4

    Vista = up to 4.2.4

    Windows 7 = up to 4.2.4

    Windows 8 & 10 = no longer supported
Contact 5:
    XP = up to 5.2.0

    Vista = up to 5.2.0

    Windows 7 = Latest

    Windows 8 & 10 = newest
Contact 6:
Windows 7, 8 or 10 (latest service pack, 64-bit only)
FOR "CONTACT" APPLIES TO ALL SYSTEMS:
1GB free hard disk space for the application

additional hard disk space according to the library size
INTERFACES
Stand-Alone | VST | Audio Units | ASIO | CoreAudio | WASAPI | AAX Native (Pro Tools 10 or higher)
You need Native Access to install, register, activate, and update your products. Launch the Native Access software and log in with your Native Instruments credentials to begin setup.
For successful activation, Native Access requires a working internet connection.
An offline activation  on another computer can NOT be performed. 
FULL PRODUCT
AAX native, AU, KontaktPlayer powered, Mac, NKS support, RTAS, Standalone, VST, Win
Download size: 6.53 GB
---