Vienna Symphonic Orchestra
SYNCHRONIZED WOODWINDS
Regular price
R 6,560.00
R 0.00
Unit price
per

SYNCHRONIZED Woodwinds - Perfected Beauty
This collection brings twelve of the widespread and popular VSL woodwind instruments to the large hall (Stage A) of the Synchron Stage Vienna. In order to meet the high standards of the SYNCHRON-ized libraries, the team of the Viennese sound editors worked intensively for a whole year on this special collection, with the main focus on a sound that is as natural, balanced and finely coordinated as possible.
Instruments:
Piccolo

Flute 1

Flute 2

Oboe 1 (French construction)

Oboe 2 (Viennese oboe)

English horn (French construction)

Clarinet in B flat 1

Clarinet in Bb 2

Bass clarinet

Bassoon 1

Bassoon 2

Contrabassoon
Fundamentally expanded, optimized and newly edited
Based on the original, unedited sample recordings from the Silent Stage for the Woodwinds I & II Collections, the aim was to optimize flexibility and user-friendliness for a quick, creative workflow. The volumes of all articulations have been completely revised, which ensures perfectly matched levels not only within the articulations of the individual instruments, but also in interaction with the other woodwind instruments included as well as with all other instruments in the Synchron series. This enables seamless changes between different articulations or transitions between vibrato and non-vibrato playing styles without the need for manual volume adjustments.
The Velocity Crossfades have also been extensively optimized for all instruments. The Velocity Layers for Legato Performances and Fast Legatos have been expanded. New are the vibrato and non-vibrato playing styles for all legato performances and fast legatos as well as looped tones for all sustains, legatos, fortepianos, sforzati and trills. The normal and fast legati for trill performances have been further optimized for the automatic detection of the game speed. Finally, the advanced release sample technology ensures that the perfectly matching note-off sample is automatically added to every note, whether played short or long.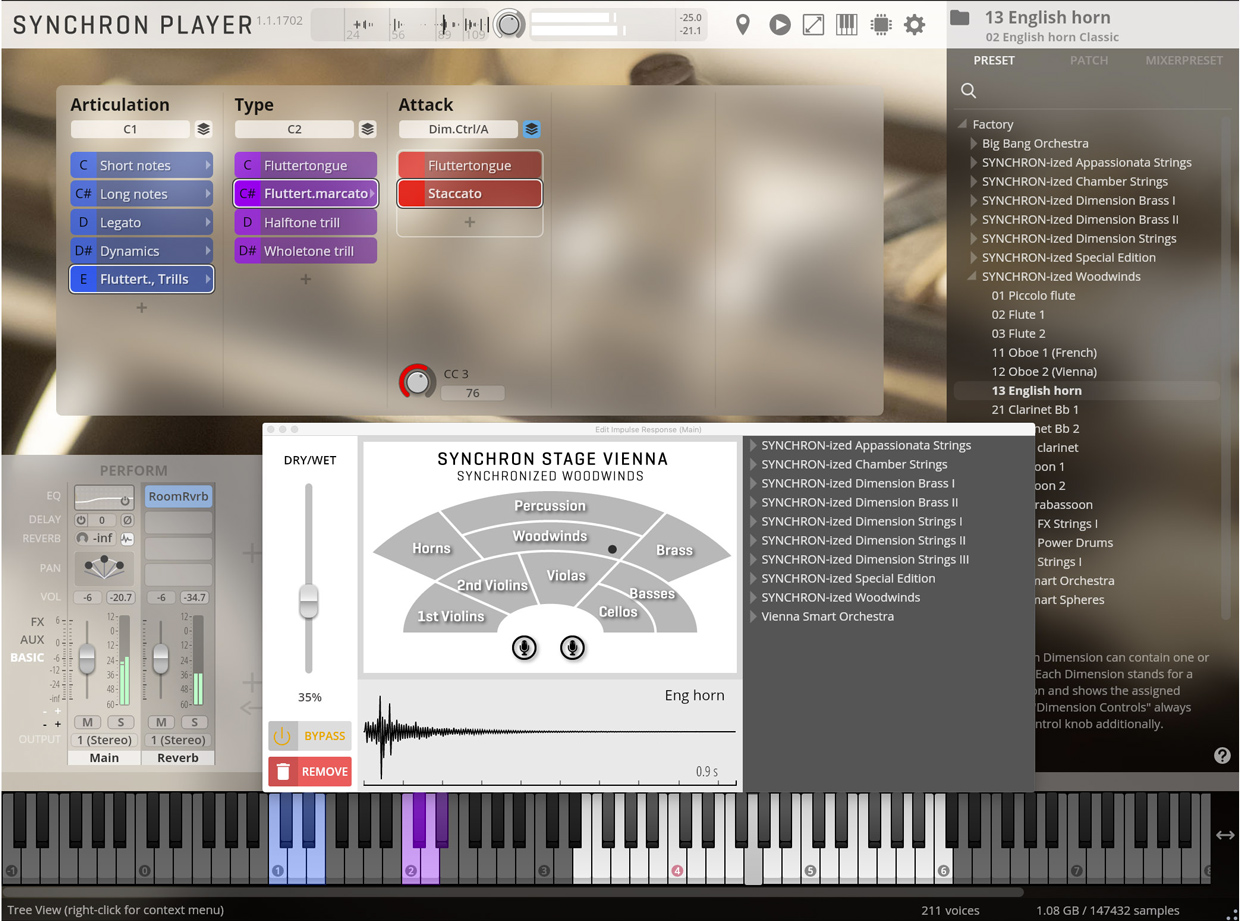 Vienna Synchron Player
As a product of the Synchron Series, SYNCHRON-ized Woodwinds is supplied with the new Vienna Synchron Player. Thanks to its powerful playback engine, it offers unmatched streaming performance and, at the same time, maximum ease of use. Short and long notes with different approaches, legati, finely graduated vibrato intensities or tone repetitions can be controlled intuitively by operating a few predefined controllers, so that manual switching of articulations is reduced to a minimum. With the help of the innovative algorithms you can effortlessly achieve the highest level of realism and expressiveness.
Outstanding acoustics
For SYNCHRON-ized Woodwinds, the VSL software programmers implemented a specially developed convolution reverb in the Synchron Player, which is based on the innovative Vienna MIR Pro technology and precisely reproduces the unique acoustics of the 540 m2 Stage A of the Synchron Stage Vienna . Tailor-made presets are available for ideal placement in the room, for which the impulse responses and reverb parameters have been individually adapted for the respective ensembles by the experienced sound engineers of the Synchron Stage. Since the space of the Synchron Stage Vienna is added to the dry samples in real time, the SYNCHRON-ized Woodwinds deliver an instantly usable surround sound "out-of-the-box" and also merge seamlessly with all other products in the Synchron Series.
System requirements
PC Windows 7/8/10 (last update, 64-bit), Intel Core 2 Duo or AMD Athlon 64 X2

macOS 10.10 (last update) or higher, Intel Core 2 Duo

SSD (M2, Sata 6 or USB3 / 3.1 UASP support) for the sample content

8 GB RAM (16 GB or more recommended)

AU / VST / AAX Native compatible host program (AAX version requires Pro Tools 10.3.5 or higher)

VIENNA KEY (Vienna Symphonic Library USB copy protection plug) or other USB eLicenser (e.g. from Steinberg or Arturia)
Other system configurations can work, but are not actively supported.
Recommended
PC Windows 7/8/10 (last update, 64-bit), Intel i5 / i7 / Xeon

macOS 10.12 (or higher), Intel i5 / i7 / Xeon

16 GB RAM or more, depending on your registered products

88 key master keyboard
Product activation:
Vienna Instruments and software require a ViennaKey !
The USB dongle from eLicenser (Steinberg, formerly Syncrosoft) is not included in the Vienna Instruments, but must be purchased separately. So you have to order at least one ViennaKey together with your first collection. It is automatically placed in the basket with the first instrument, but can be deleted again if you do not need it. Each ViennaKey can store up to 100 product licenses.
You also need an internet connection on any computer to authorize a ViennaKey.
---