Vienna Symphonic Orchestra
SYNCHRONIZED DIMENSION STRINGS III
Regular price
R 1,520.00
R 0.00
Unit price
per
Fragile string sound, whisper quiet
5 string groups, played "sul tasto":




8 first violins • 8 second violins • 6 violas • 6 cellos • 4 double basses
Authentic ensemble sound , with direct access to each individual voice

Humanize presets - adjust game accuracy in real time

Optimized for the free Vienna Synchron Player

Individual convolution reverb impulse responses from the Synchron Stage Vienna for the precise placement of the individual instruments in the room.

"Out-of-the-box" sound - can be used immediately without further sound processing
** Crossgrade Standard:
For registered owners of a Dimension Strings III Standard Library
VSL upgrades and crossgrades are generated individually. You will receive your license / activation code within a maximum of one working day.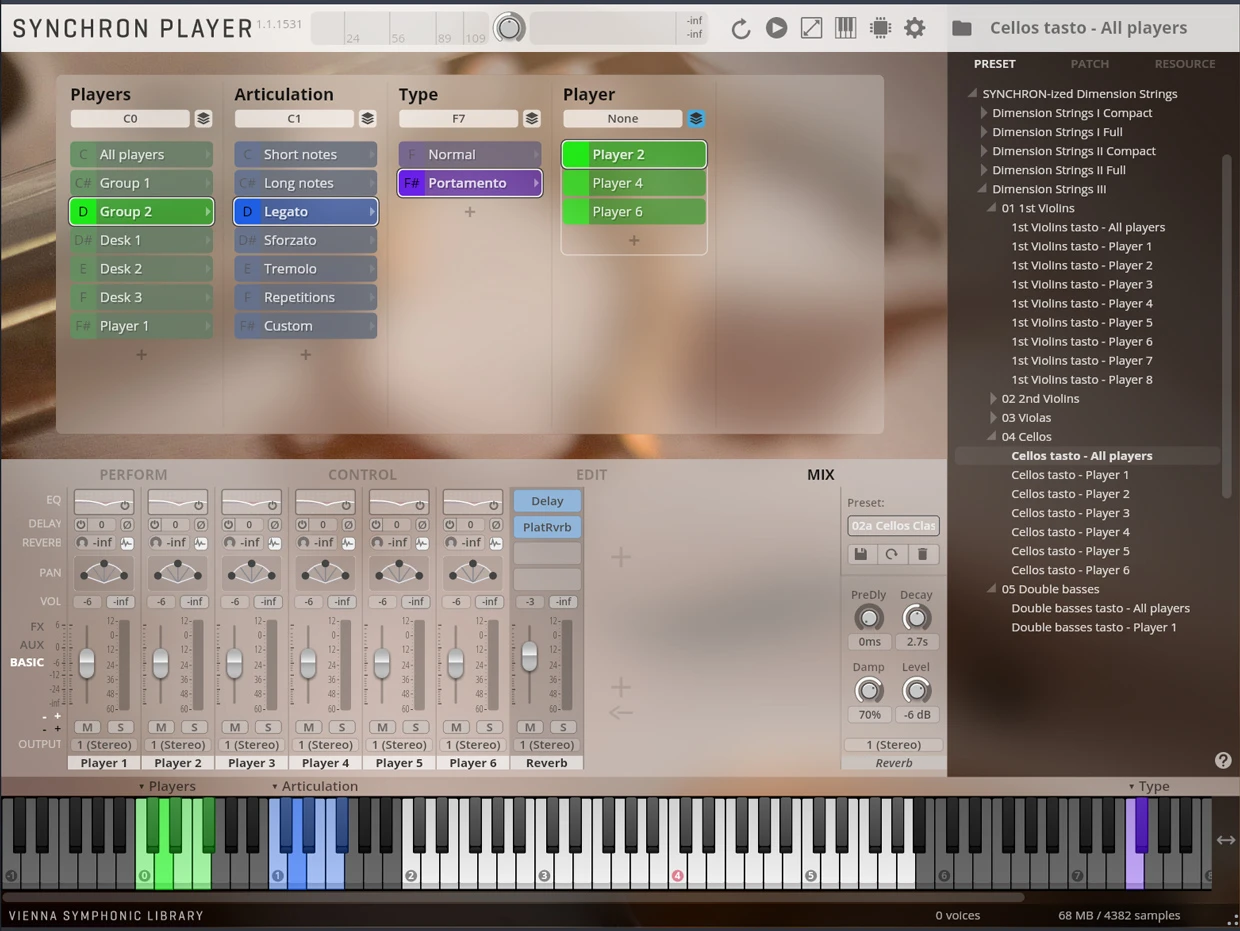 "Sul tasto" - played close to the fingerboard
This collection contains five string ensembles that were exclusively played "sul tasto". In contrast to "con sordino" (with mute), this way of playing is characterized by the fact that the bow is brought close to the fingerboard, making the sound less overtone and thus softer, more noisy and more "breathing", similar to a flute played in pianissimo. SYNCHRONIZED Dimension Strings III contains the "sul tasto" played articulations staccato, détaché, sustenuto, tremolo, tremolo with fast approach, tremolo slow, sforzato, legato, portamento, legato repetitions and spiccato repetitions.
The peculiarity of the synchronous player , being able to increase the number of players one by one, opens up completely new possibilities to start arrangements out of nowhere ("dal niente") or to let them end as quietly as a whisper ("al niente"). Since the room portion is added to the relatively dry samples in real time, a finished sound image is immediately created that can be used in a production "out-of-the-box", ie without further post-processing.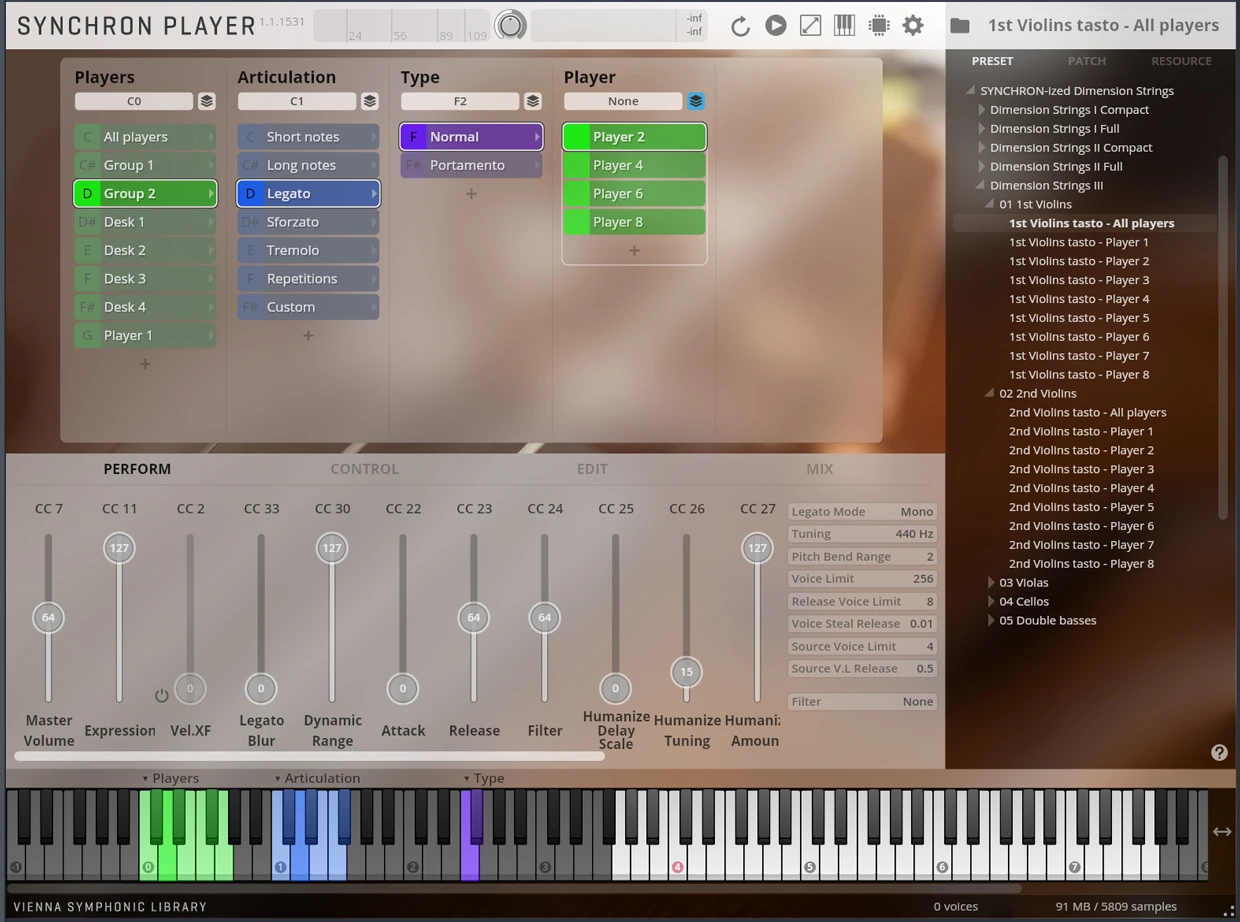 Maximum realism through imperfection
The instruments of the SYNCHRONIZED Dimension Strings III were recorded in homogeneous groups with all interactions and irregularities of the live music-making. Individual microphones for each individual player allow access to each voice. The new Synchron Player offers you the wide range of articulations of the SYNCHRON-ized Dimension Strings III in a clear manner, so that you can navigate playfully and lightly through the different playing styles.
For example, after selecting a preset, you can easily switch between different group sizes within an instance - from the section leader to two players per desk to the entire ensemble. The internal mixer assigns individual impulse responses to each player and also enables the volume automation within a group of instruments.
Outstanding surround sound
The convolution reverb implemented in the Vienna Synchron Player is based on the innovative Vienna MIR Pro technology and precisely reproduces the unique acoustics of the 540 m2 Stage A of the Synchron Stage Vienna . Tailor-made presets are available for ideal placement in the room, for which the impulse responses and reverberation parameters were individually adapted by VSL's experienced sound engineers not only for the respective string groups, but also for the individual instruments contained.
Scope of the library
Standard Library: Samples 101.466 | Download size 13.4 GB | Installed file size 27.2 GB
System requirements
PC Windows 7/8/10 (last update, 64-bit), Intel Core 2 Duo or AMD Athlon 64 X2

macOS 10.10 (last update) or higher, Intel Core 2 Duo

SSD (M2, Sata 6 or USB3 / 3.1 UASP support) for the sample content

8 GB RAM (16 GB or more recommended)

AU / VST / AAX Native compatible host program (AAX version requires Pro Tools 10.3.5 or higher)

VIENNA KEY (Vienna Symphonic Library USB copy protection plug) or other USB eLicenser (e.g. from Steinberg or Arturia)
Other system configurations can work, but are not actively supported.
Recommended
PC Windows 7/8/10 (last update, 64-bit), Intel i5 / i7 / Xeon

macOS 10.12 (or higher), Intel i5 / i7 / Xeon

16 GB RAM or more, depending on your registered products

88 key master keyboard
Product activation:
Vienna Instruments and software require a ViennaKey !
The USB dongle from eLicenser (Steinberg, formerly Syncrosoft) is not included in the Vienna Instruments, but must be purchased separately. So you have to order at least one ViennaKey together with your first collection. It is automatically placed in the basket with the first instrument, but can be deleted again if you do not need it. Each ViennaKey can store up to 100 product licenses.
You also need an internet connection on any computer to authorize a ViennaKey.
---