Vienna Symphonic Orchestra
SYNCHRONIZED DIMENSION STRINGS II
Regular price
R 1,920.00
R 0.00
Unit price
per
Five Con Sordino ensembles, reworked
5 string groups, played with mutes:




8 first violins • 8 second violins • 6 violas • 6 cellos • 4 double basses
Authentic ensemble sound , with direct access to each individual voice

Humanize presets - adjust game accuracy in real time

Newly edited , mastered and expanded sound material 

Optimized for the free Vienna Synchron Player

"Out-of-the-box" sound - can be used immediately without further sound processing

Individual convolution reverb impulse responses from the Synchron Stage Vienna for the precise placement of the individual instruments in the room.

"Out-of-the-box" sound - can be used immediately without further sound processing

Perfectly matched volumes for seamless integration with other Synchron Series products, such as B. Synchronous Strings I , SYNCHRONIZED Dimension Strings I, etc.
** Crossgrade Standard:
For registered owners of a Dimension Strings II Standard Library
VSL upgrades and crossgrades are generated individually. You will receive your license / activation code within a maximum of one working day.
Production-ready sound result
This collection with muted strings is the second part of the SYNCHRONIZED Dimension Strings products. It contains the entire, revised and expanded sound material of the popular Vienna Dimension Strings II Collection and combines this with the unique spatial sound of the Synchron Stage Vienna . Since the room portion is added to the dry samples in real time, a finished sound image is created immediately, which can be used "out-of-the-box", ie without further post-processing in a production.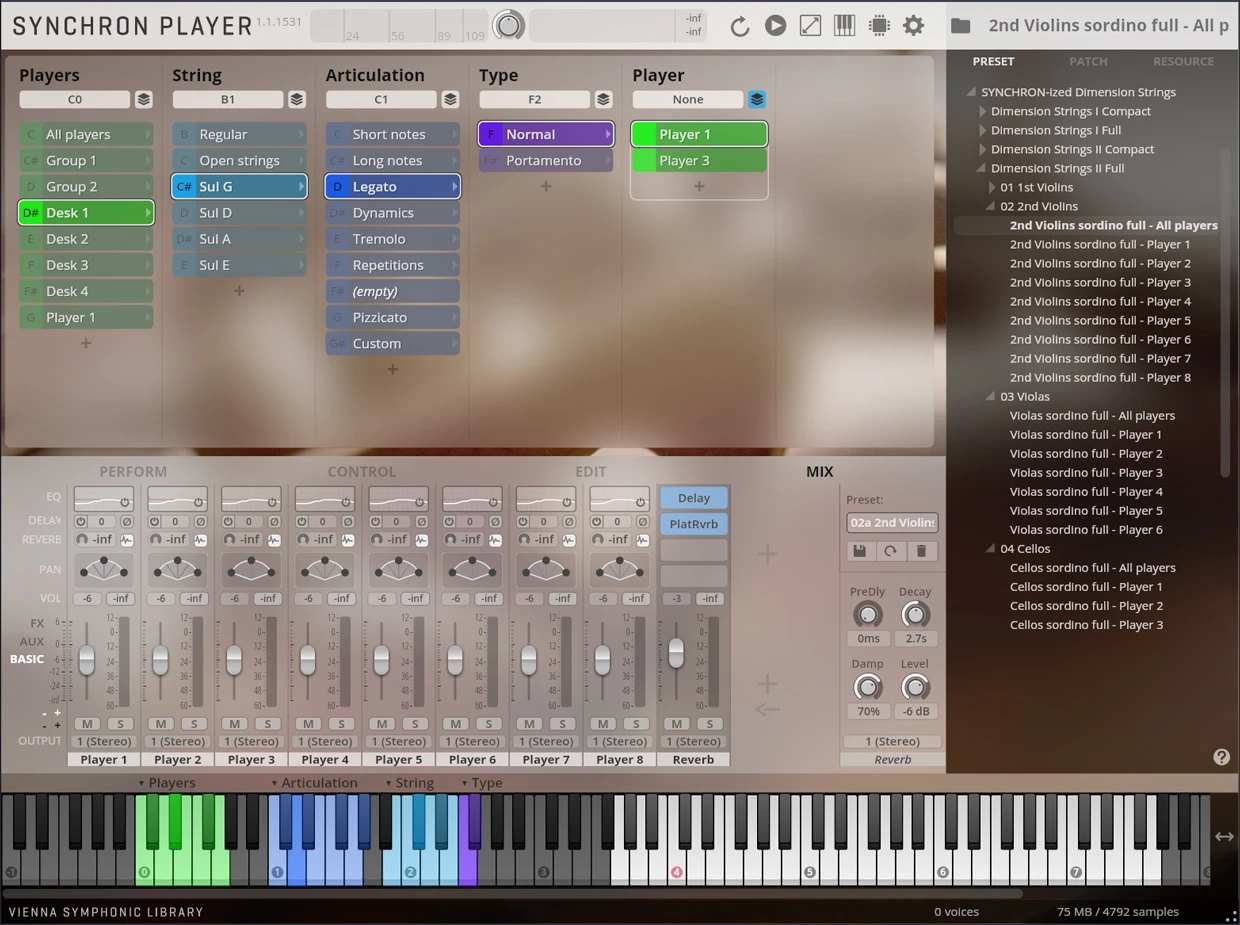 Stunning Realism Through Imperfection
The string players of SYNCHRON-ized Dimension Strings II were recorded in homogeneous groups, capturing all of the human interactions and slight imperfections of a live performance. Individual microphones for each player allow you to access each voice of the ensemble individually.
Silky Smooth Timbres
All instruments were exclusively recorded "con sordino" (with mutes) that dampen the transmission of energy from the strings to the body of the instrument and soften or darken the sound. The effect of these silky smooth timbres perfectly suits intimate arrangements and emotional ballads, or imbues a sensitive cue with subtle intensity. An insider tip of Hollywood film composers is to blend the normal string sound with muted strings for achieving a very special broad, soft, and warm string environment.
Library Content
Standard Library: Samples 265.146 | Download Files Size 28,8 GB | Installed File Size 62,8 GB
System Requirements
PC Windows 7/8/10 (latest update, 64-bit), Intel Core 2 Duo or AMD Athlon 64 X2
macOS 10.10 (latest update) or higher, Intel Core 2 Duo
SSD (M2, Sata 6 or USB3/3.1 UASP Support) for sample content
8 GB RAM (16 GB or more recommended)
AU/VST/AAX Native compatible host (AAX version requires Pro Tools 10.3.5 or higher)
VIENNA KEY (Vienna Symphonic Library USB protection device) or other USB eLicenser (e.g., from Steinberg or Arturia)
Other configurations may work but are not actively supported.
Recommended
Windows 7/8/10 (latest update, 64-bit), Intel i5/i7/Xeon
macOS 10.12 (or higher), Intel i5/i7/Xeon
16 GB RAM or more, depending on your registered products
88 key master keyboard
Product activation:
Vienna Instruments require the ViennaKey!
This USB protection device by eLicenser (by Steinberg, formerly Syncrosoft) is not included in any collection, it is a separate item you have to get additionally. So you'll have to order at least one ViennaKey with your first purchase. It will be put inside the shopping basket automatically but can be deleted if not required. Customers who order the complete SYMPHONIC CUBE will get one ViennaKey for free (not shown in the basket). If you already own another eLicenser USB protection device (e.g., from Steinberg or Arturia), you can use it for the VIENNA INSTRUMENTS, too. Each dongle can store up to 100 product licenses.
Additionally an internet connection on any computer is required to authorize a VSL product.
---