Vienna Symphonic Orchestra
SYNCHRON STRINGS I
Regular price
R 5,960.00
R 0.00
Unit price
per
Synchron Strings I is the first string library to be recorded with the characteristic surround sound of one of the world's best scoring stages, the Synchron Stage Vienna. 


Strings redefined
Synchron Strings I opens a new chapter in the sampling of strings and combines musicality, technical and artistic quality, state-of-the-art recording technology and innovative software development at the highest level. Recorded by the members of the Synchron Stage Orchestra and recorded in the in-house Synchron Stage by sound engineers who can look back on 17 years of experience in sampling, Synchron Strings I sets new standards in terms of sound, realism and playability.

Recorded at Synchron Stage Vienna
This is a significant step for the Vienna Symphonic Library to apply its highly developed sampling and software technologies to recordings with spatial elements for the first time.
Since the renovation and reopening in the summer of 2016, the Synchron Stage Vienna has been recording classic recordings as well as music for international film and TV productions (such as Inferno, The Crown, Lego Batman, Ghost in the Shell, Comrade Detective, MEG ), Video games and advertisements. The acoustics of the 540 m2 recording hall impress with a particularly full and warm sound image with an average reverberation time of 1.8 seconds, while at the same time providing excellent location of the sound sources in terms of width and depth, both in stereo and surround playback.
Multiple microphone positions
In order to capture the spectacular surround sound of the Synchron Stage, a total of eight separate, phase-coherent microphone arrangements were used. All signals were recorded at the same time and offer a large amount of sound design freedom when using the library. By mixing individual or all microphone positions, you can create the surround sound according to your ideas and requirements, from intimate and direct to epic and broad sound.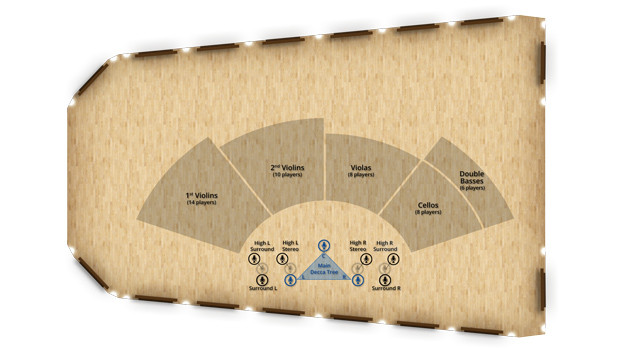 The groups of 1st violins (14), 2nd violins (10), violas (8), cellos (8) and double basses (6) were recorded separately at their typical seating position in the orchestra. Thanks to the wide range of discrete recording channels, you can shape the string sound according to your ideas and output it in stereo, 5.1 surround up to 9.1 Auro 3D (or any other 3D audio format such as Dolby Atmos).
Simple operation with great expressiveness
With Synchron Strings I, not only a maximum of realism and expressiveness, but also a new level of ease of use was achieved. Play short and long notes with different arc approaches, legati, finely graduated vibrato intensities or tone repetitions without having to switch between articulations a lot.
Synchron Strings I works with the existing Vienna Instruments and Vienna Instruments Pro player software. For these players, pre-mixed stereo mixes (down-mixes) were created for all string sections of Synchron Strings I in order to reduce the CPU load due to the lower number of voices per instance. There are also ready-made mixing templates for Vienna Ensemble and Vienna Ensemble Pro, which ensure a balanced mix of the microphone positions offered at all times, but also allow access to each individual microphone signal in order to create your own mixes
In addition, the newly developed Vienna Synchron Player will soon be available for Synchron Strings I. Its innovative algorithms make it even easier to play realistic string performances.
The combination of multiple microphone positions with a variety of velocity layers and note variants with different responses for each articulation requires a powerful sample engine. The new synchronous player impresses with an unmatched streaming performance and can call up over 300 voices per instrument at the same time! An internal mixer with panorama, integrated 5-band EQ, an algorithmic reverb, a delay to compensate for runtimes and a possibility for phase reversal is also on board.

8 velocity layers, 80 variations per note
The main reason for the high degree of realism of the Synchron Strings I is the unsurpassed number of velocity layers and playing variants per note. In most cases, each note is based on 8 dynamic layers and up to 10 variants, which are seamlessly faded into each other when the corresponding controller is operated - from pianissimo to fortissimo, with all gradual intermediate levels. All samples are automatically called up while playing, without having to worry about manual key switches.
Due to the newly introduced workflows in recording and editing, all samples were recorded and post-processed at the same level, so that they are 100% coordinated with each other in all instruments and articulations, in all pitches and dynamic gradations. A certain articulation of an ensemble in pianissimo sounds exactly as it was actually played in the Synchron Stage and thus fits exactly with the performances of the other instruments in pianissimo.
Performance legato redefined
By combining new recording techniques with the new algorithms tailored to samples with spatial elements, the revolutionary legato performances of the VSL achieve an even higher degree of authenticity.

Played by musicians from the Synchron Stage Orchestra
The sound makes the music! The musicians of the Synchron Stage Orchestra were recruited from a huge pool of first-class instrumentalists who play on their high-quality instruments. In the sampling sessions, they showed the same passion and perseverance as they have already demonstrated in countless television and film music productions. Let yourself be inspired by the outstanding musical and technical quality of the Synchron Strings I when implementing your ideas!
Microphone placement
Both Standard Library and Full Library from Synchron Strings I contain the same playing styles and only differ in the number of available microphone positions:
Microphone positions
Standard Library -  Close Mic (Mono) | Mid Mic - Front of Ensemble (L / R) | Main / Room Mic - Decca Tree Stereo (L / R) | Main / Room Mic - Decca Tree Mono (Center)

Full Library - Everyone above PLUS Rear Mic - Back of Ensemble (L / R) | Main Surround - Stereo (L / R) | High Stereo (3D) - Stereo (L / R) | High Surround (3D) - Stereo (L / R)
The main surround microphone arrangement can also be used instead of the main / room mics for a particularly wide, spatial image. Mixing the surround signals with the other microphone signals creates a denser, richer overall sound in stereo applications.

Standard Library and the upgrade to the Full Library (= Extended Library) are separate downloads.
Combine all Vienna Strings in the Synchron Stage
While the Ensembles of Synchron Strings I were recorded with the natural surround sound of the Scoring Stage, you can use Vienna MIR Pro in combination with the RoomPack 6 Synchron Stage Vienna to record your previous string products (Solo, Chamber, Orchestral, Appassionata and Dimension Strings) in the virtual image of this reception hall. In this way, you can achieve a homogeneous overall sound by placing your existing instruments right next to the musicians who were recorded in the Synchron Stage!
Synchronous Strings I - Articulations
Super short notes, including ?? "Harsh" - 9 velocity layers, 10 variants

Short notes, including ?? "Harsh" - 9 velocity layers, 10 variations

Long notes - vibrato / without vibrato / lyrical - 8/8/5 Velocity Layer, 10 variants

Long notes - flautando - 2 velocity layers, 2 variants

Long notes - crescendo / diminuendo - 6 velocity layers

Long notes soft - vibrato / no vibrato / lyrical - 7/7/5 velocity layer

Legato - normal, vibrato / no vibrato / lyrical - 8/8/5 velocity layer

Legato - soft, vibrato / without vibrato / lyrical - 7/7/5 velocity layer

Legato - fast, vibrato / without vibrato / lyrical - 8/8/5 Velocity Layer, 6 variants

Legato - wide, vibrato / without vibrato / lyrical - 8/8/5 velocity layer

Sforzando, vibrato / without vibrato / lyrical - 4 velocity layers, 4 variants

Fortepiano, vibrato / without vibrato / lyrical - 4 velocity layers, 4 variants

Tremolos - 5 velocity layers

Trill - semitone / whole tone - 5 velocity layers

Pizzicato - 5 velocity layers, 8 variations

Bartók-Pizzicato - 1 Velocity Layer, 8 variations

Muted finish  

End undamped  
Scope of the library
Standard Library: Samples 1.037.325 | Download size 149.6 GB | Installed file size 285.4 GB

Full Library: Samples 1,867,185 | Download size 293.9 GB | Installed file size 562.0 GB
System requirements
PC Windows 7/8/10 (last update, 64-bit), Intel Core 2 Duo or AMD Athlon 64 X2

macOS 10.10 (last update) or higher, Intel Core 2 Duo

SSD (M2, Sata 6 or USB3 / 3.1 UASP support) for the sample content

8 GB RAM (16 GB or more recommended)

AU / VST / AAX Native compatible host program (AAX version requires Pro Tools 10.3.5 or higher)
Other system configurations can work, but are not actively supported.
Recommended
PC Windows 7/8/10 (last update, 64-bit), Intel i5 / i7 / Xeon

macOS 10.12 (or higher), Intel i5 / i7 / Xeon

16 GB RAM or more, depending on your registered products

88 key master keyboard
This product requires activation!
This can either be done on your computer (without additional hardware) or alternatively on an iLok USB dongle that can be purchased separately . The iLok USB dongle can be plugged into any computer in order to use the protected software on several computers. Your licenses can be managed as you like using the iLok License Manager and protected against loss or theft by additional insurance ( Zero Downtime with TLC ).
To activate the product you need an internet connection on any computer and a free user account on www.ilok.com . Use the Vienna Assistant to download and install your software products and sample libraries authorized via iLok  .
Please check with the software manufacturer which iLok version is required as a minimum if you want to use a hardware iLok!
---