Vienna Symphonic Orchestra
SYNCHRON POWER DRUMS
Regular price
R 2,940.00
R 0.00
Unit price
per


Synchron Power Drums - 
Three powerful drum sets with a noble surround sound
Dynamic, powerful and lifelike sound of three drum sets, recorded in the large recording hall of the Synchron Stage Vienna

Ideal for creating assertive grooves or for a percussive exchange of blows with several drummers

Contains an exclusive selection of cinematic drum loops

MIDI files with complementary rhythmic patterns - for immediate use or freely adaptable

"Humanize Delay" creates authentic timing fluctuations, the intensity of which can be regulated via MIDI automation.

Choose from tailor-made mixer presets that range from natural sound to heavily processed effect sound

Stereo and surround formats

The ideal addition to all products in the Synchron series
The drums form the foundation of the groove and rhythm. Imagine three drum sets in a single room with excellent acoustics and you will intuitively understand the concept behind the Synchron Power Drums. It is the explosion of pure energy when powerful grooves are played "synchronously" on three different percussion batteries and interact with each other in the great hall of the famous Synchron Stage Vienna. Here you can really let the pig out and enrich your music with powerful intensity and pulsating energy.
For the recordings of the Synchron Power Drums, a Tama Star (2017) was placed in the middle, flanked by a Tama Superstar (1972) on the right and a Sonor Acryl Champion Vintage (1975) drum set on the left. You have the option of playing all three kits together or individually - in their actual recording position in the hall or in each case centered in the middle position. The three instruments were deliberately chosen in such a way that they represent the respective sound aesthetics of different epochs of recording technology in order to offer you the greatest possible tonal range.
3 drum sets - 1 room sound
The Sonor Acryl Champion Vintage Kit (left) delivers the authentic sound of the 70s and was played by legends like John Bonham, Ringo Starr, Karen Carpenter, Nick Mason and Keith Moon. The shells made of acrylic fibers ensure a louder, more powerful sound compared to wooden shells. The well-tuned snare drum (also made of acrylic fiber) delivers a sustaining, very precise and loud sound.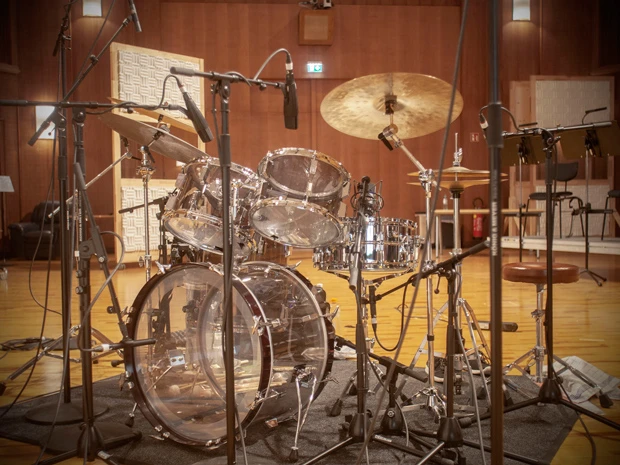 Drums:
22 "/ 16" kick drum

12 "Tom

13 "Tom

16 "Tom

14 "/ 6.5" Phonic snare
Cymbals:
14 "Meinl Byzance Sand Hat

18 "Meinl Extra dry thin crash (left)

22 "Meinl Byzance vintage pure light ride

20 "Meinl Byzance Vintage Crash (right)
The Tama Star Kit (center) with its dynamic, overtone-rich, bright and open sound represents the modern drum sound and has been Tama's flagship series since 2013. Two famous players in this series made of maple are Simon Phillips and Peter Erskine.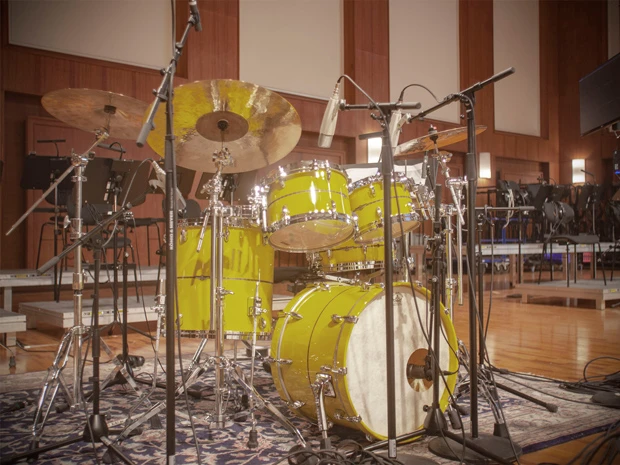 Drums:
20 "/ 14" kick drum

10 "Tom

12 "Tom

16 "Tom

14 "/ 6.5" snare
Cymbals:
14 "Meinl Byzance Medium HH

17 "Meinl MB 20 crash (left)

21 "Meinl Byzance Transition Ride

18 "Meinl Byzance Dual Crash (right)
The Tama Superstar (right) was particularly popular in the 1980s. The birch drum shells provide a deep, warm, dry and powerful sound that is almost characteristic of every disco and rock production. Interestingly, it was Billy Cobham and Elvin Jones who were the first to adopt the versatile sound of these instruments in their personal style.
Drums:
22 "/ 16" kick drum

13 "Tom

14 "Tom

16 "Tom

14 "/ 5" Ludwig Supraphonic Snare
Cymbals:
14 "Meinl Byzance extra dry medium HH

18 "Meinl Byzance Dual crash (left)

20 "Meinl Byzance Vintage Pure Light

18 "Meinl Byzance Extra dry thin crash (right)
Sampling details
Up to 10 velocities and 6 variations per beat ensure the finest gradations of the loops, which can be seamlessly faded from a quiet pattern to a dramatic intensity. The focus of the Synchron Power Drums lies in powerful performances whose expressiveness and raw energy can only be captured in a scoring stage like the Synchron Stage Vienna.
New functions in the Vienna Synchron Player

Integrated MIDI player with drag & drop function, exclusively for Synchron Power Drums. You can also import any other loop collection in the standardized General MIDI mapping format.
Large selection of exclusive, cinematic drum loops specially tailored to the three available drum kits. Complete loops as well as separated according to instrument groups:
3 drum sets in one MIDI file (on 3 MIDI tracks)

Each drum set individually

Bass drum and snare drum for each individual drum kit

Hi-hats for every single drum kit

Toms for each individual drum kit

Cymbals for each individual drum kit
You can control the crosstalk of the microphones in the internal mixer of the Synchron Player yourself - this function is available exclusively for Synchron Power Drums. This allows you to choose how much of the signal you want to hear from the respective close microphones in the overall mix.
Microphone setup:
Around the performances on each drum set were recorded with 19 microphone positions. The Close, Mid and Decca Tree positions are included in the Standard Library . The full library contains additional room and surround mic positions.
Mixer presets
From the bombastic widescreen sound to distorted sounds to precise studio sounds with enormous punch or complex, complementary-rhythmic grooves: With these wonderful instruments, all this and more is possible. The included presets form an ideal starting point for your mixes or serve as a source of inspiration for your own completely new creations.
Room Mix: "Centered" and "Placed in the room"

Decca Tree: "Centered" and "placed in the room"

Surround to Stereo Mixdown: "Centered" and "Placed in the room"

Surround (Full Library): "Centered" and "Placed in the room"
Each setup serves different aspects in the mix:
Natural

Parallel compression

Parallel compression reverb

Doomed

Flying toms

Ambience

Ambience parallel compression

BAM

WOW
Scope of the library
Standard Library: Samples 153.072 | Download size 29.1 GB | Installed file size 71.4 GB

Full Library: Samples 181.773 | Download size 38.9 GB | Installed file size 95.3 GB
PC Windows 8.1 / 10 (last update, 64-bit), Intel Core i3 or AMD Athlon 64 X2

macOS 10.10.05 or higher, Intel Core i3

SSD (M2, Sata 6 or USB3 / 3.1 UASP support) for the sample content

8 GB RAM (16 GB or more recommended)

AU / VST / AAX Native Compatible Host Program (AAX version requires Pro Tools 10.3.5 or higher)
Other system configurations can work, but are not actively supported.
Recommended
PC Windows10 (last update, 64-bit), Intel i5 / i7 / i9 / Xeon

macOS 10.12.6 (or higher), Intel i5 / i7 / i9 / Xeon

16 GB RAM or more, depending on your registered products

88 key master keyboard
This product requires activation!
This can either be done on your computer (without additional hardware) or alternatively on an iLok USB dongle that can be purchased separately . The iLok USB dongle can be plugged into any computer in order to use the protected software on several computers. Your licenses can be managed as you like using the iLok License Manager and protected against loss or theft by additional insurance ( Zero Downtime with TLC ).
To activate the product you need an internet connection on any computer and a free user account on www.ilok.com . Use the Vienna Assistant to download and install your software products and sample libraries authorized via iLok  .
Please check with the software manufacturer which iLok version is required as a minimum if you want to use a hardware iLok!
---