Vienna Symphonic Orchestra
SYNCHRON PERCUSSION I
Regular price
R 7,580.00
R 0.00
Unit price
per
Impressive power
With this new Schlagwerk collection, a new era begins for the Vienna Symphonic Library. Synchron Percussion I was recorded in Stage A, the large hall of Synchron Stage Vienna. The reception hall, brought to life by the Vienna Symphonic Library, is considered to be one of the best scoring stages in the world.
Every smallest detail was taken into account and captured with an elaborate, phase-controlled multi-microphone setup in order to bring the sound character of these high-quality and multi-faceted percussion instruments and their natural surround sound into your studio in the best possible way.
16 instruments
Synchron Percussion I contains 16 essential orchestral percussion instruments that are permanently stored in the Synchron Stage Vienna under ideal climatic conditions and regularly serviced. These are first-class instruments from leading brands, such as: B. Adams, Bergerault, Kolberg, Lefima, Meinl, Yamaha and Zildjan.
Instruments included
5 timpani (Adams; C – c # 1)

Bass drum (Kolberg "Dicke Bertha" 36 "x28")

Snare drum (Kolberg "Piano-Forte" rosewood 14 "x 6.5")

8 concert toms (Yamaha CT-9000 series; 6 "-16")

Xylophone (Adams Artist Alpha; c1 – c5)

Glockenspiel (Yamaha 2500; c2 – e5)

Celesta (Kolberg; c – f5)

Suspended Basin (Zildjian, 16 "& 18")

Cymbal pairs (Zildjian 20 "Constantinople Orchestra Medium Light; Meinl 22" Symphonic Extra Heavy)

2 tam-tams (Wuhan; 100cm and 120cm)

Tubular bells (Bergerault Symphonic; f – f2)

Tambourines (2 pieces: Lefima 2091-A, Kolberg 2030 DW)

Triangle (7 sizes)

Woodblocks (5 pieces)

Castanets (2 pairs)

Shaker (2 pieces)
12 microphones
Each instrument was recorded with 12 microphones. You can choose between four different microphone positions (Standard Library) or seven different microphone positions (Full Library) and mix them in the Vienna Instruments or Vienna Instruments Pro player as well as in the mixing hosts Vienna Ensemble or Vienna Ensemble Pro. The included presets of balanced microphone mixes serve as the perfect starting point for your own creations. 
The natural surround sound of Stage A was captured with a Decca tree in stereo, further microphone settings allow 5.1 and even Auro 3D playback in 9.1. The natural volume behavior as well as the sound character of the instruments was retained during both recording and editing.
Full Library microphone positions:
Close Mic - Mono

Mid Layer Mic - Stereo (L / R)

Main / Room Mic - Decca Tree Stereo (L / R)

Main / Room Mic - Decca Tree Mono (Center)

Main Surround - Stereo (L / R)

High Stereo (3D) - Stereo (L / R)

High Surround (3D) - Stereo (L / R)
The Standard Library contains positions 1-4.
3D sound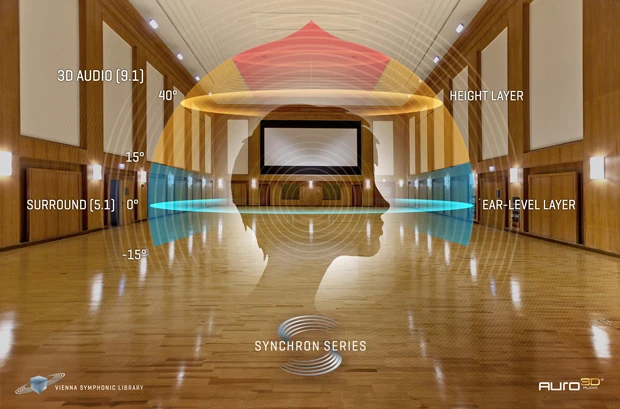 Auro 3D is an audio technology for the three-dimensional mapping of signals. The technology developed by the Belgian company Auro Technologies is based on a special loudspeaker configuration that adds four additional loudspeakers to the 5.1 surround arrangement (so-called "heights"), which are located above the front and surround loudspeakers, adds. The height channels reproduce the natural reflections of the hall, which are captured by height microphones and which arise above the listener. The recorded sound sources can be localized better and spatially during playback. Thanks to the wide range of discrete recording channels, Synchron Percussion I (Full Library) can be used to create mixes in both Auro 3D and Dolby Atmos.
128 variants per beat
A considerable amount of time was invested in recording the 16 instruments. This Tour de Force was only possible because both the Synchron Stage Vienna and all of the instruments themselves are owned by the Vienna Symphonic Library. Synchron Percussion I now impresses with the immense dynamic range and liveliness of the instruments, which were recorded with up to 16 velocities and up to 8 variations per beat. In addition to "open" strokes, the playing styles "secco" (muted strokes at the end) and "coperto" (muted strokes) were also taken into account. This results in up to 128 variants for each individual stroke. In addition, several mallets were used per instrument.
It took 100 hours to capture the five timpani in all their subtle nuances. Since these were sampled over the entire range, a specific pitch can be generated by up to three different instruments. Thanks to our specially developed, innovative release sample technology, you can stop dynamic vortices ("rolls"), which are available as crescendos and diminuendos in various lengths and intensities, at any time - you simply keep the button pressed for as long as required and maintained the matching finish whenever you release the key. Glissandi are available up to a major sixth in three tempos, whereby the innovative "Performance Interval Rolls" allow unrestricted legato play up to a fifth.
A special sampling robot was used for the celesta, with the help of which 36 velocity layers of this beautiful instrument were captured.
Rich material for sound design
We have recorded "effect sounds" with almost all instruments, which are ideal for sound design and the creation of completely new sounds. For example, the skin of the big drum was made to vibrate with a "superball" (rubber ball), the concert toms were worked on with rubbing sticks, the glockenspiel, xylophone, as well as the tam-tams and hanging cymbals were painted with a double bass bow, and much more Invite experimentation and serve as a source of inspiration for your compositions.
The room as an instrument
The Synchron Stage Vienna on Vienna's Rosenhügel offers space for orchestras with up to 130 musicians and has so far not only proven to be a fantastic space for film music recordings, but is also ideal for sampling sessions thanks to its extraordinary acoustics. Well-known artists such as Karl Böhm, Herbert von Karajan, Yehudi Menuhin, Swjatoslaw Richter and Mstislaw Rostropowitsch used the excellent acoustics of this hall for their now legendary recordings as early as the 1960s.
Thanks to the massive room-in-room construction on separate foundations, in conjunction with the high level of sound insulation and the sophisticated ventilation system, an extremely low background noise level of only 16 dBA is achieved even when the air conditioning is fully operational.
The large stage A has a reverberation time of 1.6 to 1.8 seconds, with the shortened reverberation time in particular not having a masking effect, as can happen in other scoring stages. The instruments sound powerful and warm, with good localization in the stereo image and in depth at the same time. The room itself becomes a wonderful instrument, especially at low and medium volume levels. We have used the high-energy bass response of the room, for example, to record not only the regular head tension of the bass drum, but also particularly low-frequency variants with relaxed head tension. But be careful with the volume control - the ultra-low frequencies can cause serious damage to your speakers if the listening volume is too high!
Perfect climatic conditions
Thanks to a sophisticated air conditioning system in the Synchron Stage Vienna, the exact same conditions prevail in the Schlagwerk warehouse as in the large Stage A in terms of temperature and humidity. The air conditioning system works completely silently, which means that the recordings were not impaired in any way, even when the system was running at full capacity.
Features at a glance:
16 orchestral percussion instruments from Synchron Stage Vienna

Recorded in the 540 m2 Stage A of the Synchron Stage Vienna

Over 475,000 samples (full library)

427 GB of installed sound data

Up to 100 hours of recording time per instrument group

Excellent sound quality with 1.6 to 1.8 seconds of natural reverb

All instruments recorded with 12 microphones (full library) or 6 microphones (standard library)

3D Sound (Full Library) - mix in stereo, 5.1 surround, Auro 3D or Dolby Atmos

Up to 128 samples per pitch and beat

Unique new release sample technology for crescendo and diminuendo pegs

New: "Performance Interval Rolls" - play twirled legato lines on the timpani up to a fifth

Extra deep moods on the big drum - for a high-energy bass response in interaction with the room

Many effect playing styles for sound design - a treasure trove for new types of sounds

Including free Vienna Ensemble Mixing Host and Vienna Instruments player (fully compatible with Vienna Ensemble Pro and Vienna Instruments Pro)

Contains presets with balanced microphone mixes for the players Vienna Instruments and Vienna Instruments Pro, as well as for the mixing hosts Vienna Ensemble and Vienna Ensemble Pro
Scope of the library
Standard Library: Samples 271.728 | Download size 99.1 GB | Installed file size 214.6 GB

Full Library: Samples 475.524 | Download size 206.4 GB | Installed file size 426.9 GB
System Requirements
PC Windows 8.1 / 10 (last update, 64-bit), Intel Core i3 or AMD Athlon 64 X2

macOS 10.10.05 or higher, Intel Core i3

SSD (M2, Sata 6 or USB3 / 3.1 UASP support) for the sample content

8 GB RAM (16 GB or more recommended)

AU / VST / AAX Native Compatible Host Program (AAX version requires Pro Tools 10.3.5 or higher)
Other system configurations can work, but are not actively supported.
Recommended
PC Windows10 (last update, 64-bit), Intel i5 / i7 / i9 / Xeon

macOS 10.12.6 (or higher), Intel i5 / i7 / i9 / Xeon

16 GB RAM or more, depending on your registered products

88 key master keyboard
This product requires activation!
This can either be done on your computer (without additional hardware) or alternatively on an iLok USB dongle that can be purchased separately . The iLok USB dongle can be plugged into any computer in order to use the protected software on several computers. Your licenses can be managed as you like using the iLok License Manager and protected against loss or theft by additional insurance ( Zero Downtime with TLC ).
To activate the product you need an internet connection on any computer and a free user account on www.ilok.com . Use the Vienna Assistant to download and install your software products and sample libraries authorized via iLok  .
Please check with the software manufacturer which iLok version is required as a minimum if you want to use a hardware iLok!
---