Vienna Symphonic Orchestra
SYNCHRON BRASS
Regular price
R 4,340.00
R 0.00
Unit price
per
Synchron Brass- Powerful brilliance
Versatile brass section for a wide variety of music styles

8 solo instruments and 9 ensembles

In-depth sampling for a new level of dynamic expression

New feature "Timbre Adjust" for even more possibilities of expression

9 microphone positions with preconfigured mixer presets, signature and FX presets

Expression Maps for Sibelius, Dorico and Cubase
"Breathtaking." "The best I've ever heard." "Awesome." It is reactions like these that the Synchron Stage Vienna team gets to hear again and again when customers from Hollywood and the rest of them are recording a film the world to hear the brass of the Synchron Stage Orchestra. This gripping sound is created especially when excellent musicians have the opportunity to interact with the acoustics of an extraordinary room in which brass instruments come into their own and which inspires them to perform at their best.


Instruments:
Trumpet 1 (Marc Osterer)

Trumpet 2 (Peter First)

Trumpet Ensemble (4) *

Trumpet Ensemble (6)

Horn 1 (Péter Keserű)

Horn 2 (Viliam Vojčík)

Horn ensemble (6) *

Horn ensemble (12) *

Tenor trombone (Matthias Reindl)

Bass trombone (Bernhard Vierbach)

Cimbasso (Stefan Hirt)

Bass tuba (Lukas Hanspeter)

Tenor Trombone Ensemble (4)

Trombone Ensemble (9) *

Low Brass Ensemble (4 bass trombones, bass tuba) *

Low Brass Ensemble, unison and cluster (4 bass trombones, bass tuba, double bass tuba) *

Giant Tutti Brass (28 instruments: 6 trumpets, 12 horns, 9 tenor and bass trombones, 1 tuba)
* from the Big Bang Orchestra series
The production of Synchron Brass was a wonderful experience for the musicians: inside as well as for the production team. Although it is known that sampling sessions pose a particularly great mental and psychological challenge, after 20 years of library development and a few years of film music recordings, Viennese musicians have been invited to a sampling project by the Vienna Symphonic Library as a matter of honor to become.
It is also the musicians who breathe life into the libraries with emotionality and artistic expression. Each and every one of them brings lifelong experience and perfect mastery of the instruments with them, against the background of a wide variety of biographies. As a representative, two musicians are presented here who have both played in numerous film music recordings in the Synchon Stage Vienna and shine as solo instrumentalists at Synchron Brass.

The first solo trumpet was played by Marc Osterer from New York. After the Manhattan School of Music he played on Broadway, in Birdland, at Jazz at the Lincoln Center, Coachella, the Salzburg Festival, was solo trumpeter at the Orquesta Filarmónica de la Ciudad de México for five years until he moved to Austria to join the Electro swing act Parov Stelar touring the world and becoming a member of the Synchron Stage Orchestra.
The recordings of the solo double horn were made by Péter Keserű from the Hungarian town of Kiskunfélegyháza. He was active as a solo horn player in various orchestras, such as B. the Budapest Festival Orchestra or the Bruckner Orchestra Linz. Since 2008 he has held this position in the ORF Radio Symphony Orchestra Vienna, and now also in the Synchron Stage Orchestra.

The development of the next generation in brass sampling naturally requires more than great musicians: putting them inside a wonderful recording hall. The experiences and expectations of customers from countless scoring sessions as well as the know-how of two decades of orchestral samplings have flowed into a multitude of details in the conception of Synchron Brass, both in terms of the material to be played and the recording setup. As always with VSL, the focus was on developing perfectly coordinated virtual instruments that can be operated intuitively and are coherent, and that are fully dynamic in extreme situations. For this purpose, all dynamic layers were meticulously coordinated by the editing team in order to ensure seamless transitions between different articulations,
Timbre Adjust
As a further innovation, the Synchron Player now offers an alternative or supplement to Velocity Crossfade: Timbre Adjust, assigned to MIDI CC8 by default. Brass instruments in particular, especially solo winds, are able to produce the finest different nuances of sound in the volume gradations. The intelligent filter now offers the possibility of changing volume and timbre within a velocity layer while maintaining the authentic sound behavior. The solo brass instruments from Synchron Brass act dynamically at eye level with the real instruments. In addition, Timbre Adjust can also be used to generate different variations from playing styles with only one velocity layer (e.g. sforzatissimo), or to replace velocity crossfades,
Synchron Brass offers a large selection of playing styles, and features such as timbre adjust, time stretching or the release sample technology increase the flexibility and application possibilities of the samples many times over. These intelligent functions of the Synchron Player allow you to manipulate the samples in real time in order to achieve even more authenticity and musical expression.

Multiple microphone positions
Up to nine separate, phase-coherent microphone arrangements were used to best capture the instruments with the spectacular surround sound of the large hall of the Synchron Stage Vienna. For the solo horns, in addition to the close, mid, decca tree and surround microphones, a condenser microphone behind the respective musician and a ribbon room microphone were used. All microphone signals are now separately available in the mixer window of the Synchron Player.

Preconfigured mixer presets deliver a wide variety of sound characteristics "out-of-the-box", from close and dry to distant with plenty of surround sound, from muffled to blaring, from natural dynamics to highly compressed. As with all Synchron Libraries, you can play your brass instruments in stereo, 5.1 surround up to 9.1 Auro 3D or any other 3D audio format such as. B. Output Dolby Atmos.

Microphone setup - Standard & Full Library
Both Standard Library and Full Library from Synchron Brass contain the same playing styles and only differ in the number of microphone positions available:
1. Close Mic (mono) - Standard & Full Library
2. Solo Horn Back Mic (mono) - Full Library Only
3. Mid Mic - Stereo (L / R) - Standard & Full Library
4. Main / Room Mic - Decca Tree Stereo (L / R) - Standard & Full Library
5. Main / Room Mic - Decca Tree Mono (Center) - Standard & Full Library
6. Main Surround - Stereo (L / R) - Full Library Only
7. High Stereo (3D) - Stereo (L / R) - Full Library Only
8. High Surround (3D) - Stereo (L / R) - Full Library Only
9. Solo Horn Room Mic Ribbon - Stereo (L / R) - Full Library Only
The main surround microphone arrangement can also be used instead of the main / room mics for a particularly wide, spatial image. Mixing the surround signals with the other microphone signals creates a denser, richer overall sound in stereo applications as well.

"Room Mixes" are CPU and RAM-saving stereo mixes by combining the signals of the Decca tree and the surround microphones, with which you can start immediately "out of the box". A large number of other mixer presets are available in the categories "Decca Tree Multi-Mic", "Surround to Stereo Downmix" and "Surround".
The Standard Library and the upgrade to the Full Library are separate downloads.
3D sound
Auro 3D is an audio technology for the three-dimensional mapping of signals. The technology developed by the Belgian company Auro Technologies is based on a special loudspeaker configuration that adds four additional loudspeakers (so-called "heights") to the 5.1 surround arrangement, which are located above the front and surround loudspeakers, adds. The height channels reproduce the natural reflections of the hall, which are captured by height microphones and which arise above the listener. The recorded sound sources can be localized better and spatially during playback. Thanks to the wide range of discrete recording channels, Synchron Brass (Full Library) can be used to create mixes in both Auro 3D and Dolby Atmos.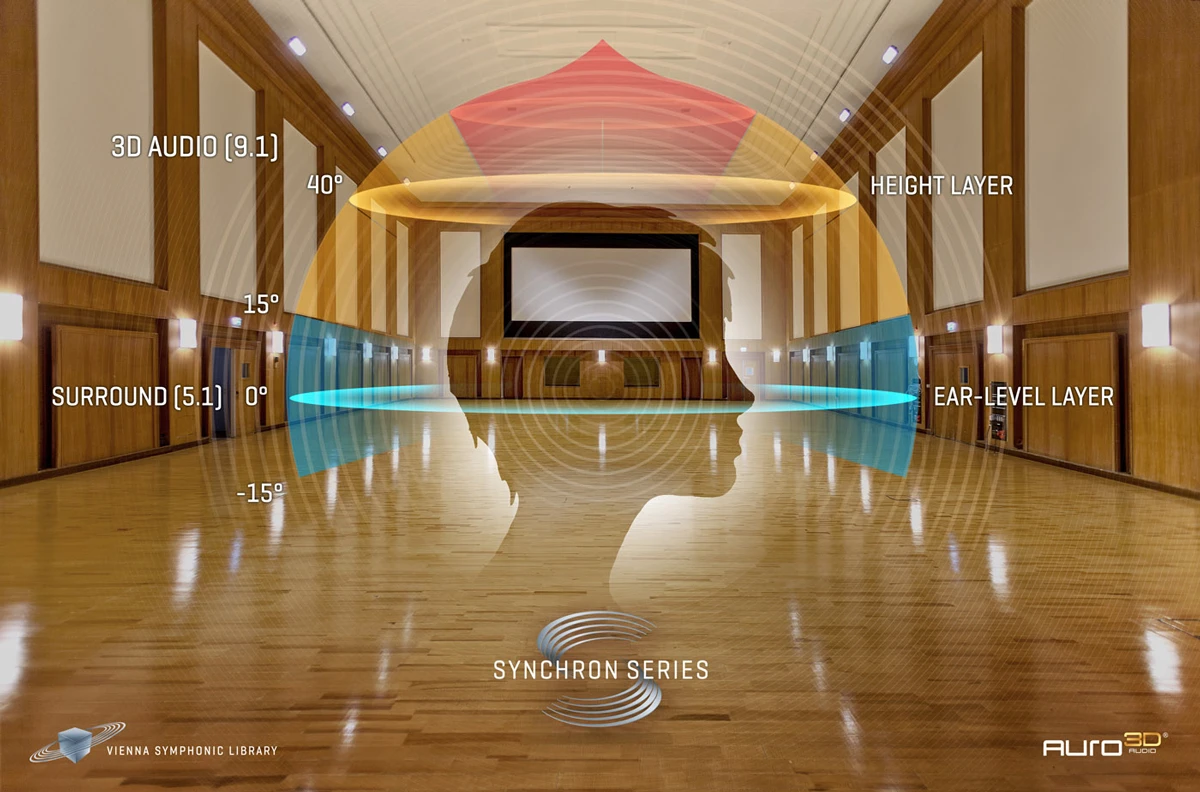 Recorded at Synchron Stage Vienna
Since opening in 2015, composers and film studios around the world have been fascinated by the extraordinary possibilities that our historic studio complex offers. Hans Zimmer Remote Control Productions has implemented a number of productions, such as the blockbuster "Inferno" or the Netflix series "The Crown", which was awarded a Golden Globe. Harry Gregson-Williams conducted his score for "The Meg" on Stage A, while Lorne Balfe had it recorded in Vienna for "Ad Astra" and the BBC series "Blue Planet II". Large orchestral productions for Chinese, Japanese and South Korean blockbusters are also being implemented on an ongoing basis. The Vienna Symphony Orchestra, Philharmonix or the Vienna Radio Symphony Orchestra are just a few of the last European projects.
System Requirements

PC Windows 8.1 / 10 (last update, 64-bit), Intel Core i3 or AMD Athlon 64 X2

macOS 10.10.05 or higher, Intel Core i3

SSD (M2, Sata 6 or USB3 / 3.1 UASP support) for the sample content

8 GB RAM (16 GB or more recommended)

AU / VST / AAX Native Compatible Host Program (AAX version requires Pro Tools 10.3.5 or higher)
Other system configurations can work, but are not actively supported.
Recommended
PC Windows10 (last update, 64-bit), Intel i5 / i7 / i9 / Xeon

macOS 10.12.6 (or higher), Intel i5 / i7 / i9 / Xeon

16 GB RAM or more, depending on your registered products

88 key master keyboard
This product requires activation!
This can either be done on your computer (without additional hardware) or alternatively on an iLok USB dongle that can be purchased separately . The iLok USB dongle can be plugged into any computer in order to use the protected software on several computers. Your licenses can be managed as you like using the iLok License Manager and protected against loss or theft by additional insurance ( Zero Downtime with TLC ).
To activate the product you need an internet connection on any computer and a free user account on www.ilok.com . Use the Vienna Assistant to download and install your software products and sample libraries authorized via iLok  .
Please check with the software manufacturer which iLok version is required as a minimum if you want to use a hardware iLok!
---