Vienna Symphonic Orchestra
ORCHESTRAL STRINGS I
Regular price
R 1,920.00
R 0.00
Unit price
per
Heart of the orchestra - violins and violas
The 14 violinists in the violin ensemble are led by Christian Eisenberger, who has performed in various international concerts with artists and conductors such as Claudio Abbado, Martha Argerich, Nikolaus Harnoncourt, Herbert von Karajan, Gideon Kremer, Kent Nagano, Roger Norrington, Murray Perahia, Andras Schiff, Georg Solti and many more worked. The ensemble of ten violas is directed by Anett Homoki, who is a member of the Vienna Chamber Philharmonic and the Vienna Volksoper.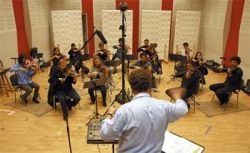 The Vienna Instruments string sections offer an extremely wide range of playing styles. The special characteristics of these sound bodies are taken into account by a large number of performances, which show their strengths especially in interaction with the algorithms of the Vienna Instrument Player. In larger ensembles, the random effect with trills or fast legatas comes into its own and gives these performance patches special authenticity. The larger the ensemble, the more intense the effect that implements the natural "imperfection" of the individual musicians when changing from one note to the next. This effect was particularly taken into account in the "Repetition Performances Pizzicati", which were recorded in two different tempos.
A number of user requests for additional samples were also taken into account, for example the short staccatos, the expressive interval legati, espressivo with sordino, as well as the expansion of the range of sustains and staccatos.
ARTICULATIONS
Performances:
Interval Performances: legato, portamento, staccato, tremolo

Fast Interval Performances: legato, marcato, spiccato

Repetition Performances: legato, portato, staccato, spiccato, harsh / td>

Performance trills

Interval Performances muted (con sordino): normal, portamento

Violins: Interval Performance Glissandos on the same string

Repetition Performances: legato, bow vibrato, portato, staccato, spiccato, harsh, upbeats, pizzicato

Repetition Performances muted: sustains, legato, portato, staccato

Runs: legato, spiccato; major, minor, chromatic, whole tone
Single notes:
Short notes: short staccato, staccato, short détaché, long détaché, 4 variations each

Long notes: sustains with and without vibrato, espressivo, flautando

Dynamics: various crescendos & diminuendos, with and without vibrato, fp, sfz, sffz, pfp

Tremolos: sustains, crescendo & diminuendo

Trills: half tone, whole tone, minor, major 3rd, accelerando

Pizzicatos and Bartók pizzicatos (loose and tight)

Col legno

Artificial harmonics: staccato, sustains, repetitions

Con sordino: staccato, détaché, sustained, crescendos & diminuendos, fortepiano, sforzato, tremolo, pizzicato, trills

Artificial harmonics: staccato, sustains
Orchestral Strings I - instruments: violin ensemble (14 musicians) & viola ensemble (10 musicians)
Scope of the library
Standard Library: Samples 10.193 | Download size 13.5 GB | Installed file size 23.5 GB

Full Library: Samples 51,137 | Download size 13.5 GB | Installed file size 23.5 GB
Purchasing a VSL library also entitles you to download the Vienna Instruments software player free of charge, which contains the Vienna Ensemble mixing and host software.
PC Windows 7/8/10 (last update, 32/64-bit), Intel Core 2 Duo or AMD Athlon 64 X2

macOS 10.10 (last update) or higher, Intel Core 2 Duo

2 GB RAM (4 GB recommended)

free hard disk space according to the following 

 

table of space requirements
Other system configurations can work, but are not actively supported.
Recommended
PC Windows 7/8/10 (last update, 64-bit), Intel i5 / i7 / Xeon

macOS 10.12 (or higher), Intel i5 / i7 / Xeon

4 GB of RAM

SSD (M2, Sata 6 or USB3 / 3.1 UASP support) or separate HDD (7200 rpm or faster)

AU / VST / AAX compatible host program (also runs stand-alone)

AAX version requires Pro Tools 10.3.5 or higher

88 key master keyboard
This product requires activation!
This can either be done on your computer (without additional hardware) or alternatively on an iLok USB dongle that can be purchased separately . The iLok USB dongle can be plugged into any computer in order to use the protected software on several computers. Your licenses can be managed as you like using the iLok License Manager and protected against loss or theft by additional insurance ( Zero Downtime with TLC ).
To activate the product you need an internet connection on any computer and a free user account on www.ilok.com . Use the Vienna Assistant to download and install your software products and sample libraries authorized via iLok  .
Please check with the software manufacturer which iLok version is required as a minimum if you want to use a hardware iLok!
---