Best Service
KWAYA AFRICAN VOICES
Regular price
R 5,230.00
R 0.00
Unit price
per


The sound of the sun rising over the savannah
KWAYA - African Voices by Eduardo Tarilonte
Kwaya is an incomparable choir library with authentic African voices. With "Aba Taano" from Uganda, Eduardo Tarilonte has found the perfect choir for this long and intensively prepared project.
Kwaya appeals to everyone who wants to use the distinctive and expressive sound of African singing voices in their production. Whether for film / TV soundtracks, thematic documentaries, decoupled musical songs, atmospheric ambient music or dance-loving tribal club tracks - Kwaya stands for incomparable inspiration paired with unbeatable flexibility.
Kwaya allows you to arrange individual vocal lines and choirs with the special sound of African singers from syllables recorded in different pitches as well as voice effects.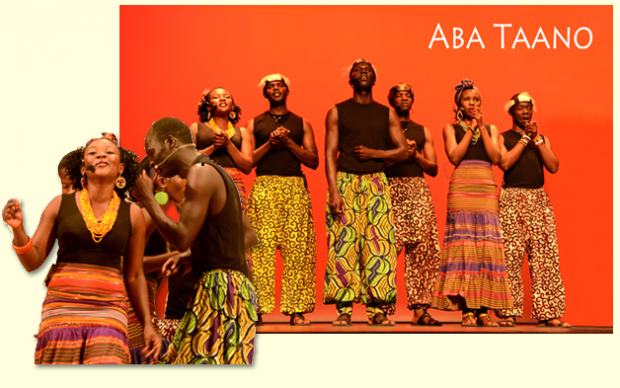 The four men and two women of the award-winning choir Aba Taano were recorded separately for this contact 5-player library, so that you can put together an individual voice ensemble according to your own wishes. This guarantees you the greatest possible flexibility, since you can freely adjust the volume and panorama for each voice - and thus the timbre of the entire choir.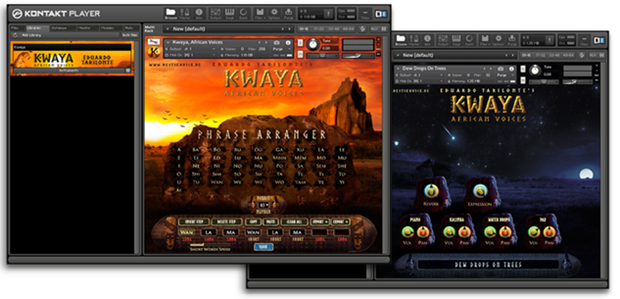 A total of 40 different syllables were recorded by each singer. These can be switched precisely with keyswitching. The syllables can be connected in a natural sounding way using five "True Legato Vowels" (a, e, i, o, u). In addition, there is an extra "mm" articulation that is so distinctive for East and Central African singing.
The syllables can be played as a solo voice or in an ensemble. There is a choice between short and long articulations for the syllables. Especially with the short articulations, the speed of each individual syllable can be fine-tuned in the phrase arranger.
The handling of Kwaya is extremely easy despite the more than 10,000 samples and a library size of 7 GB (losslessly compressed to 5 GB data volume). The library offers a set of 20 different phrases, each with eight syllables. You can switch between these using the keyswitch and edit them in the phrase arranger. There you can choose from 40 different syllables, five vowels and the "mm" articulation. Once you've selected the syllables, all you have to do is choose between short and long articulations. An NKS adaptation is also available for the Komplete Kontrol controller keyboards from Native Instruments.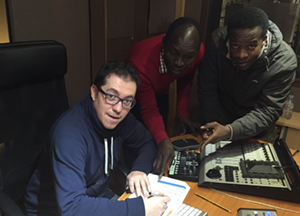 For special highlights in the vocal arrangements there is an extensive collection of over 700 voice effects that can be played as phrases to the choir syllables. In addition, Kwaya offers several soundscapes, whose atmospheres range from harmonious to dark.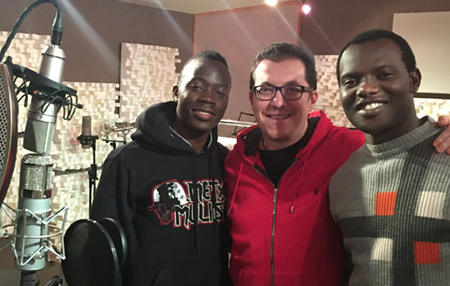 The recordings for Kwaya took place in the Eldana Studio in Spain, where Eduardo Tarilonte has already recorded various instruments for Era II. This small studio has a wonderful surround sound and excellent equipment. Aba Taano's singers were recorded with a Pablo Kahayan U47 (excellent for vocal recordings) via an API preamplifier, which gave the quality of the library a little extra.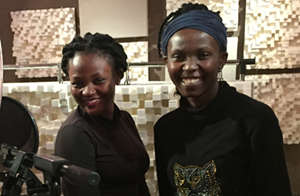 From the multitude of recordings, Eduardo Tarilonte carefully selected the best and most harmonious tones. Due to the high quality and carefully executed recording, the voices could be left almost natural. This means that you have all the options for post-processing to be able to incorporate the voices of Kwaya into your productions in the best possible way.
With KWAYA you get:
4 solo male voices

2 solo female voices

5 different "True African Style Legatos" (a, e, i, o, u)

"Mmm" articulation

A powerful phrase arranger with 20 phrases, each with 8 syllables *

40 words can be combined with "True Legato", whereby the corresponding vowel is automatically selected

over 700 voice effects *

16 soundscapes

10,000+ samples (stereo, 44kHz, 24 bit), library size 7 GB uncompressed 4.5GB compressed

Including free contact player (version 5.5 or higher required)
* All syllables are created in a fantasy language. Only some of the poems and voice effects come from the Ugandan language.
AAX native, AU, KontaktPlayer powered, Mac, NKS support, RTAS, Standalone, VST, Win
Download size: 4.52 GB
---