Synthogy
IVORY II STUDIO GRANDS
Regular price
R 5,220.00
R 0.00
Unit price
per
THIS PRODUCT IS ONLY AVAILABLE IN AFRICA
Two exceptional studio grand pianos
With Studio Grands, Synthogy presents the newest member of the Ivory II series. Included are two extraordinary studio grand pianos, recorded in 2 legendary studios. Another highlight is the piano engine revised by Synthogy, which has been enhanced in version 2.5 with numerous features.
Steinway Model B Grand Piano - Power Station NE - Waterford, Connecticut
The Steinway B concert grand is one of the most recorded pianos in music history. Due to its balanced sound character, it is an absolute favorite for use in the studio - regardless of the genre. Before starting the recordings in the Power Station NE Studio, the grand piano was thoroughly prepared in collaboration with a Steinway & Sons® technician.
Bösendorfer 225 Grand Piano Firehouse Recording Studios - Pasadena, California
From the delicate pianissimo to the brilliant fortissimo, the Bösendorfer 225 grand thrills all along the line. Additional bass strings not only expand the range of the instrument, but also the timbre. The sound presence in all positions is the reason for the popularity of the 225, which can be heard on several Grammy-winning productions.
Under the direction of Tony Shepperd, the recordings took place in the Firehouse Recording Studio, and the team around Synthogy attached great importance to detailed sampling in order to make this masterpiece sound as authentic as possible.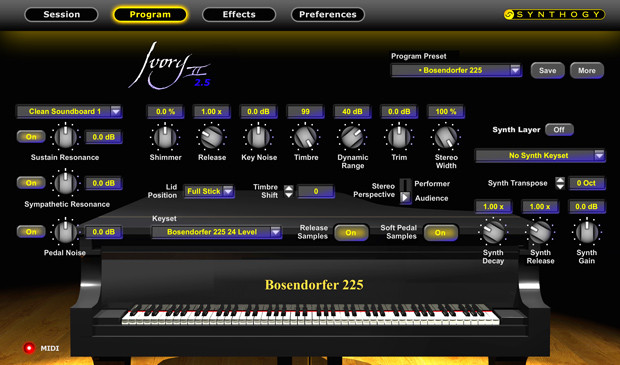 Virtual piano engine features:
Up to 24 velocity levels

Multiple soft pedal level

Multiple release samples level, triggered by velocity and duration

Harmonic resonance modeling for real string swinging

Custom soundboard emulation DSP

Pedal noise enhancements

Native 64 bit support

Timbre shifting, parametric EQ and synth layer controls

Sample Interpolation Technology for smoother velocity and note transitions

World-class effects such as real ambience, chorus and EQ

User-defined controls for timbre, stereo width and perspective, velocity response, mechanical key noises, lid position and much more.

Tuning tables

Dozens of programs and presets
Ivory II-Studio Grands is the first synthogy piano to be delivered with the new version of the Ivory Piano Engine. An iLok or the computer can be used for authorization.
Other features of the Ivory 2.5 piano engine:
Shimmer: Control over sustain and decay

Half-pedal controls

Adjustable MIDI controls

High Resolution MIDI Velocity Response

Improved user interface for the visually impaired
PACE computer activation and PACE iLok ™ key activation are only supported with the Synthogy Ivory 2.5 or newer piano engine.
Older piano engine versions can only be activated with an iLok ™ key.
Minimum hardware
2 GHz quad-core CPU

1.5 GB RAM

112 GB free hard disk space

At least 7200 RPM HDD or SSD, connected via 1394c, SATA, or faster

DVD ROM drive
Recommended hardware
2.0 GHz Intel Core Duo CPU

2 GB RAM

112 GB free hard disk space

At least 7200 RPM HDD or SSD

DVD ROM drive

iLok Key optional

Macintosh
AU, AAX or VST 2.4 host software, or the Ivory standalone software.

Mac OS X 10.8 (Mountain Lion) or higher
Windows
AAX or VST 2.4 host software, or the Iory standalone software.

Windows 7 SP 2 (32 or 64 bit) or higher
This product requires activation!
This can either be done on your computer (without additional hardware) or alternatively on a separately purchased Ilok USB dongle . The iLok USB dongle can be plugged into any computer in order to use the protected software on several computers. To activate the product, you need an internet connection on any computer and a free user account at www.ilok.com.
AAX native, AU, Mac, RTAS, standalone, VST, Win
---