Synthogy
IVORY II GRAND PIANOS
Regular price
R 7,550.00
R 0.00
Unit price
per
THIS PRODUCT IS ONLY AVAILABLE IN AFRICA
AAX native, AU, Mac, RTAS, Standalone, VST, Win
Download size: 71.71 GB
With the release of Ivory II Grand Pianos, this world's most popular compilation of virtual grand pianos has become even better! Ivory II now offers a significantly expanded sound set with almost twice as many velocity layers as well as the new Ivory II DSP engine with "Harmonic Resonance Modeling", which makes the natural resonance of the strings extremely realistic. With Ivory II Grand Pianos, Synthogy rises to the top of the podium in sampling and synthesis technology.
Included wings:
• Bösendorfer 290 Imperial Grand
• German Steinway D 9 'Concert Grand
• Yamaha C7 Grand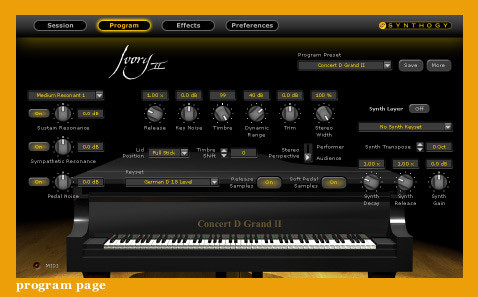 The feeling is incredible! From the toughest fortissimo to the softest, almost breathable pianissimo, Ivory II Grand Pianos begins to breathe under your fingers and lures the best of every pianist, as does a first-class real instrument.
A whole host of new functions, especially for pianos existential, have been packed into the Ivory 2 engine. The "Sympathetic String Resonance" function deserves special mention. After long attempts to approach the difficult to grasp characteristics of a real concert grand piano, Synthogy has found a unique way that realistically reproduces both the complexity and the subtleties of the resonance behavior of strings and sound body.
"Harmonic Resonance Modeling" is a completely new technology that does not simply trust simple samples, waveforms or audio recordings. On the contrary, struck notes that communicate harmoniously with each other stimulate the creation of complex overtones for all sustained tones in the same way as it happens with undamped strings in a real piano. The result is an unprecedented naturalness.
Ivory II also has solutions for many synthogy customer requests on board such as Half Pedaling, Lid Position, Pedal Noise, and Tuning Tables to convey greater expressiveness and game control.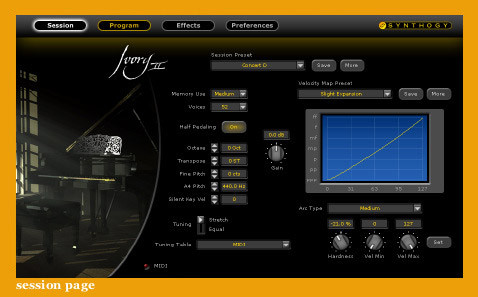 Other special features are timbre shifting and a parametric EQ, new synth layer controls are a powerful tool for tailor-made piano programming and sound design.
Of course, the legendary Ivory pianos are particularly important to Ivory II. Every Ivory piano has been further developed and refined: more dynamic levels (up to 18 per piano), additional soft pedal samples and even more release samples are available.
Synthogy's years of experience in the development of virtual pianos combined with the protected "timbre interpolation" technology is a guarantee of the highest naturalness and unbeatable joy of playing.


Further description in English:
Ivory II Grand Pianos features:
Over 77 Gigabytes of stunning, Acoustic Grand Piano sampled instruments:




Bösendorfer 290 Imperial Grand




German Steinway D 9 'Concert Grand




Yamaha C7 Grand




(Each piano can be installed separately)

Up to 18 discrete velocity layers with Sample Interpolation Technology for ultra-smooth velocity and note transitions

Harmonic Resonance Modeling for the most realistic Sympathetic String Resonance possible

Half-pedaling

Synthogy's exclusive, powerful 32 bit Sample Playback and DSP engine, engineered specifically for recreating the acoustic piano

Sustain Resonance DSP for realistic Damper Pedal response

World class digital FX including Real Ambience, Chorus and EQ

Customizable User controls for Timbre, Stereo Width and Perspective, Velocity Response, Mechanical Key Noise, Lid Position, Tuning Tables, and more

Timbre Shifting, Parametric EQ and new Synth Layer controls for powerful sound sculpting capabilities

Expertly tuned and regulated pianos in world-class studios and concert halls

All 88 keys individually sampled in up to 18 dynamic levels (plus Bösendorfer extended low octave)

Incorporates exclusive Sample Interpolation Technology used for ultrasmooth velocity and note transitions

Real release samples, soft pedal samples, and pedal noise enhancements

Optional synth pad layer for modern / pop combinations

Dozens of user-adjustable presets
PACE computer activation and PACE iLok ™ key activation are only supported with the Synthogy Ivory 2.5 or newer piano engine.
Older piano engine versions can only be activated with an iLok ™ key.
Minimum hardware
2 GHz quad-core CPU

1.5 GB RAM

112 GB free hard disk space

At least 7200 RPM HDD or SSD, connected via 1394c, SATA, or faster

DVD ROM drive
Recommended hardware
2.0 GHz Intel Core Duo CPU

2 GB RAM

112 GB free hard disk space

At least 7200 RPM HDD or SSD

DVD ROM drive

iLok Key optional

macintosh
AU, AAX or VST 2.4 host software, or the Ivory standalone software.

Mac OS X 10.8 (Mountain Lion) or higher
Windows
AAX or VST 2.4 host software, or the Iory standalone software.

Windows 7 SP 2 (32 or 64 bit) or higher
This product requires activation!
This can either be done on your computer (without additional hardware) or alternatively on a separately purchased Ilok USB dongle . The iLok USB dongle can be plugged into any computer in order to use the protected software on several computers. 
To activate the product, you need an internet connection on any computer and a free user account at www.ilok.com.
---