Best Service
TO HORNS OF HELL
Regular price
R 3,110.00
R 0.00
Unit price
per
Horns Of Hell - The Gates Are Open!
Master the true power of the brass. Horns Of Hell covers everything from brilliant shine to the ultimate inferno - it's all down to your Modwheel. Horns Of Hell is a mighty brass, organ and percussion library with a total of 67 different articulations. It contains unique harrowing sounds like the mighty tenor horns or the devilish Evil Brass.
Horns of Hell draws its strength to the full:
48 powerful brass patches from a huge 20-piece brass ensemble with 28 articulations, plus all TO articulations, 5 FX and phrase patches.

15 different organ registrations, recorded from two different organs in the same church, from quiet and gentle to thundering and majestic, as well as from 3 playable organ FX patches.

Different percussion, deep strokes, tubular bells and a timpani.
Of course, our highly valued MIDI export function is also included.
Horns Of Hell is included in " The Orchestra Complete 2 ".

Made to feel!
Horns Of Hell are your tool for expressing the unspeakable. Air and metal merge into an instrument that has all emotional facets: from warm and supportive to majestic and overwhelming. From soft and shimmering to powerful and brutal. In the limit areas of sound, where most virtual instruments fail, Horns Of Hell gains even more power.
The ensemble
Horns Of Hell isn't just a brass, organ, and percussion library, it lets you control unheard articulations. It is your toolset for creating new and amazing timbres and expressing your ideas.

Experience real power
Trumpet Ensemble (3 players) French Horn Ensemble (4 players) Tenor Horn Ensemble (4 players) Trombone Ensemble (3 players) Low Brass (2 players) Evil Brass (4 players: Bass Trombone, Contrabass Trombone, Contrabass Tuba & Cimbasso).

15 organ patches, 10 manual and 5 pedal registrations. Over 500 recorded pipes!

Non Pitched Percussion (Taikos, Tom Ensemble, Gran Cassa, Tam Tam, Snare Drum, Piatti, Suspended Cymbals)
European top brass ensemble
A 20-piece brass ensemble, divided into 6 sections, played their instruments in a variety of impressively powerful techniques to enable this expressiveness in Horns Of Hell. The recordings were made in the classic recording room of Studio 22 in Budapest. All sections were taken in their traditional positions.
Endless inspiration
Horns of Hell offer you a huge amount of content:
40+ different war and battle patches

50+ individual NKI's

85 multi-articulations

A total of 120 diverse ensemble presets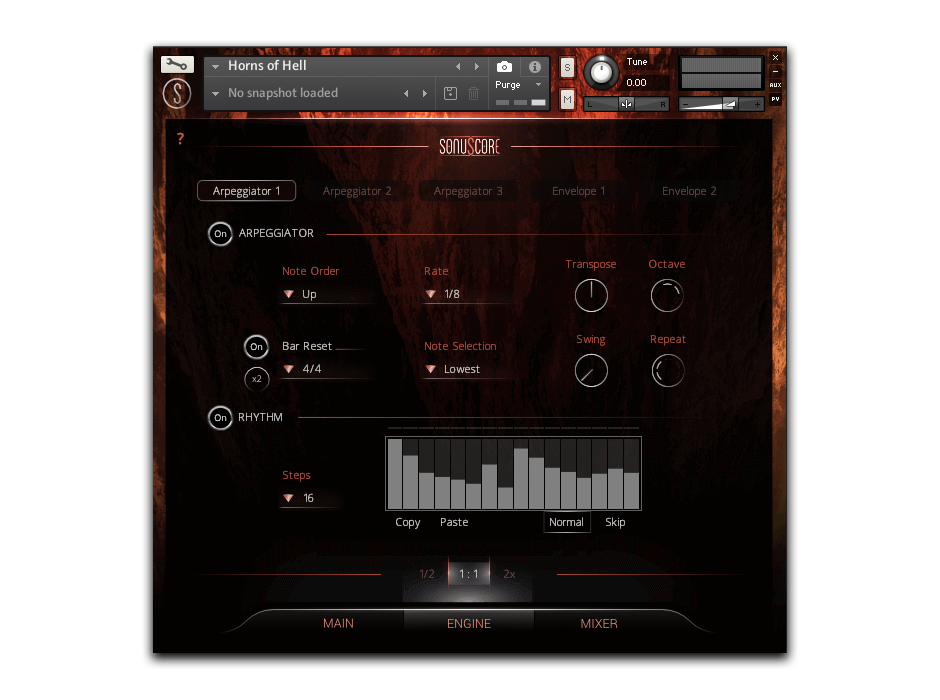 The core: the ensemble engine
Horns Of Hell is released with a revised engine from the customer-loved and critically acclaimed "The Orchestra" and introduces a revised preset browser. Browse the huge selection of presets now with intuitive filters and categories.
The Ensemble Engine works with a number of independent arpeggiators and velocity envelopes that are heavily inspired by the Sonuscore Origins series. Create pulsating rhythms and even inspiring full arrangements from any combination of notes. All of this without relying on pre-recorded phrases - you are always in full control. It works no matter what chord or note you play. Thanks to the shortest loading times, you have uncomplicated access to a huge number of presets from a single source.
All drums and hits have been fully integrated into the Ensemble Engine, which enables completely new and intense presets.
New preset browser with intuitive filters

Independent arpeggiators and envelopes enable lively and powerful orchestral moods.

Load 5 different instruments into the slots and play them independently

Each slot can be assigned to a module
"Horns Of Hell" was developed for Best Service by Sonuscore / Dynamedion, the makers of "The Orchestra", ELYSION, Trinity Drums, Strings Of Winter and NI Action Strings, Action Strikes and Emotive Strings.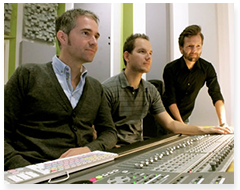 Dynamedion was founded in 2000 by Tilman Sillescu and Pierre Langer, two composers with degrees in music. With a steadily growing number of contracts and a growing customer base, Dynamedion is now a leader in soundtrack composition and sound design on the European computer game market. In 2005 Dynamedion produced the very successful first benchmark live orchestral recordings for a German game soundtrack, setting the standard for major projects in the industry.
With numerous other productions for the video game industry, Dynamedion has earned its reputation for unsurpassed quality and integrity in this area.
Minimum Free Kontakt Player or Full Kontakt Version 6.2.2 required
This product is delivered with the current NI Kontakt Player!

 

Please refer to the product description to find out which contact version you can use the product with.
They want more?
This library entitles you to purchase the reduced crossgrade of the full version of KONTAKT from Native Instruments.
The following list shows whether the corresponding Kontakt version is compatible with your operating system:
Mac
Contact 4:
    OS X 10.6 & 10.7 = up to 4.2.4

    From OS X 10.8 = no longer supported
Contact 5:
    OS X 10.6 = up to 5.0.3

    OS X 10.7 = up to 5.3.1

    OS X 10.8 = 5.0.3 - 5.5.1

    OS X 10.9 = 5.3.0 - 5.6.6

    OS X 10.10 = 5.3.0 - 5.7.3

    OS X 10.11 = 5.5.1 - Latest

    Mac OS 10.12 = 5.6.1 - Latest

    Mac OS 10.13 = Latest

    Mac OS 10.14 = Latest

    Mac OS 10.15 = Latest
Contact 6:
Mac OS 10.12 - 10.15 (latest update)
Windows
Contact 4:
    XP = until 4.2.4

    Vista = up to 4.2.4

    Windows 7 = up to 4.2.4

    Windows 8 & 10 = no longer supported
Contact 5:
    XP = up to 5.2.0

    Vista = up to 5.2.0

    Windows 7 = Latest

    Windows 8 & 10 = newest
Contact 6:
Windows 7, 8 or 10 (latest service pack, 64-bit only)
FOR "CONTACT" APPLIES TO ALL SYSTEMS:
1GB free hard disk space for the application

additional hard disk space according to the library size
INTERFACES
Stand-Alone | VST | Audio Units | ASIO | CoreAudio | WASAPI | AAX Native (Pro Tools 10 or higher)
You need Native Access to install, register, activate, and update your products. Launch the Native Access software and log in with your Native Instruments credentials to begin setup.
For successful activation, Native Access requires a working internet connection.
An offline activation  on another computer can NOT be performed. 
AAX native, AU, KontaktPlayer powered, Mac, NKS support, Standalone, VST, Win
Download size: 4.63 GB
---