Vienna Symphonic Orchestra
HARPS
Regular price
R 2,420.00
R 0.00
Unit price
per
Brilliant refinement of your orchestral palette of timbres
This collection with two harps takes into account the fact that the use of two harps was established in the mid-19th century. Harp 1 is played by Ruth Rojahn, harpist of the Hof Symphony Orchestra and internationally successful soloist. In addition to the individual notes in different playing styles, the first harp offers an enormous variety of glissandi, which are now particularly effective in the Vienna Instruments and are easy to use. The controller structure enables extremely flexible and fast work, whereby it is very easy to switch between ranges, different tempos, up and down, and different keys in real time during the game. You now have access to all dimensions at the same time! The spectrum of the first harp is represented by a wide range of arpeggios,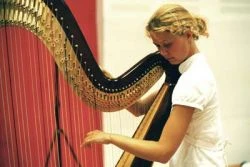 The second harp, played by Julia Reth, contains an even larger number of individual notes, also in playing styles such as muted, with fingernails or pedal glissandi. The bisbigliando variations, the whispering of the delicate tremolo on two strings, which are confused enharmonically and produce the same tone, are particularly atmospheric.
ARTICULATIONS
Single Notes:
Normal, Muted, Harmonics, Bisbigliando
 Glissandi:
Medium speed major, diminished, pentatonic, and whole tone
Harps - instruments: harp 1 & harp 2
Scope of the library
Standard Library: Samples 2.010 | Download size 4.4 GB | Installed file size 14.3 GB

Full Library: Samples 9.077 | Download size 4.4 GB | Installed file size 14.3 GB
Purchasing a VSL library also entitles you to download the Vienna Instruments software player free of charge, which contains the Vienna Ensemble mixing and host software.
Mac:
macOS 10.10 or higher

64 bit

Intel Core 2 Duo

RAM: 12GB or more
Windows:
Windows 8-10

32 bit & 64 bit 

Intel Core 2 Duo or AMD Athlon 64 X2

RAM: 12GB or more
You also need free hard disk space according to the following  table of space requirements .
This product requires activation!
This can either be done on your computer (without additional hardware) or alternatively on an iLok USB dongle that can be purchased separately . The iLok USB dongle can be plugged into any computer in order to use the protected software on several computers. Your licenses can be managed as you like using the iLok License Manager and protected against loss or theft by additional insurance ( Zero Downtime with TLC ).
To activate the product you need an internet connection on any computer and a free user account on www.ilok.com . Use the Vienna Assistant to download and install your software products and sample libraries authorized via iLok  .
Please check with the software manufacturer which iLok version is required as a minimum if you want to use a hardware iLok!
---