Vienna Symphonic Orchestra
GREAT RIEGER ORGAN
Regular price
R 4,990.00
R 0.00
Unit price
per
 Pulls out all the stops
With 116 stops for its four manuals and the pedal board, the Great Rieger organ in the Vienna Konzerthaus is the largest concert organ on the European continent. It was built by the renowned Rieger brothers from Jägerndorf in Silesia and installed in 1913 - the year the concert hall in the heart of Vienna was officially opened. Compared to a church organ with excessive reverberation, this "queen of instruments" is the ideal counterpart for orchestral instruments that play in the recording studio or concert hall due to its construction in a concert hall.
This collection is based on the recordings of the original Vienna Instruments Konzerthaus Organ, equipped with a brand new sample engine and a user interface tailored to organ playing, the Vienna Organ Player . The software makes it easy to configure and edit the organ's manuals and pedals, so that you can quickly complete the steps required for your registrations. In addition, the Vienna Organ Player is multitimbral, so that you can assign your own MIDI channels to the manuals and the pedal.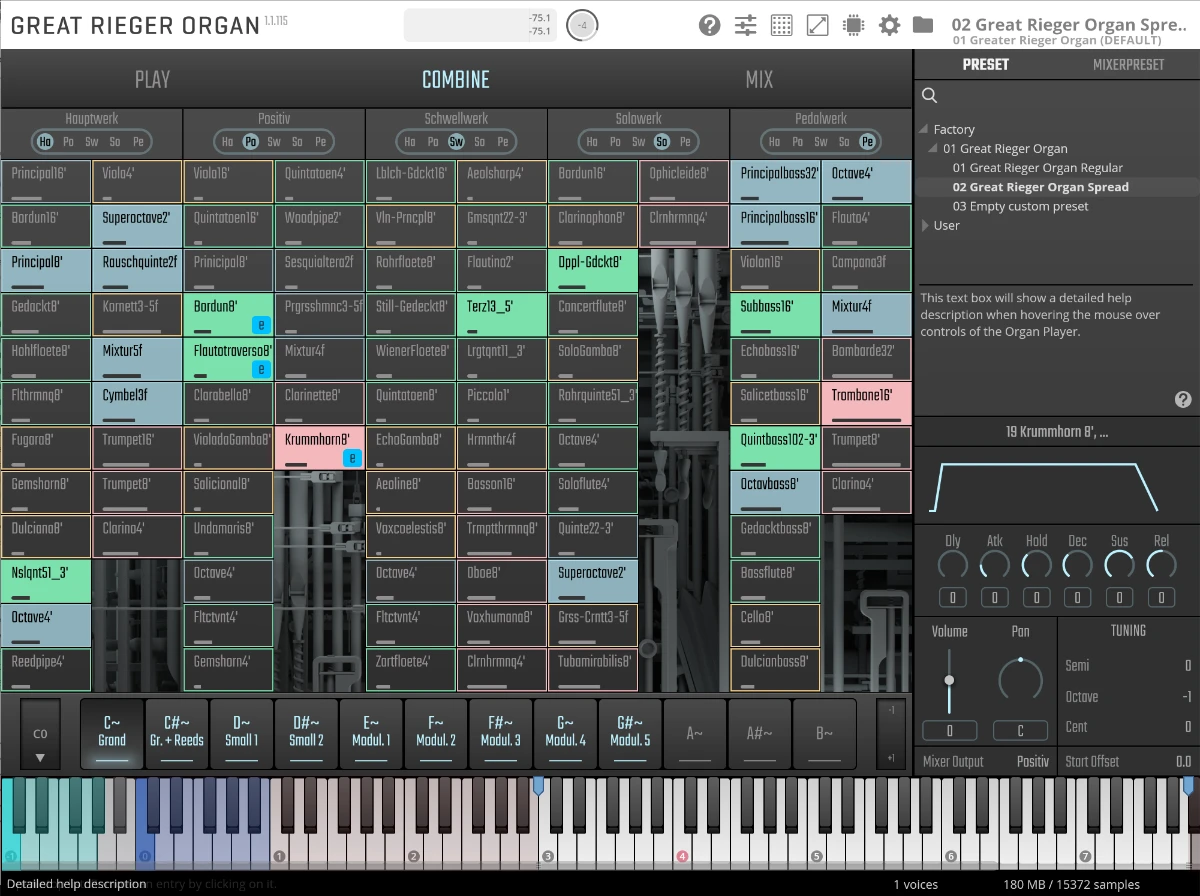 The navigation in the player with its three main views is very easy. COMBINE offers an overview of all registers and their distribution to manuals and pedals, each of which is assigned its own audio channel. The audio configuration can be viewed and edited under MIX. PLAY, on the other hand, gives you access to those parameters that are useful for live play.
The new Vienna Organ Player impresses with its great flexibility and many options. Increase the authenticity of your production and mix in the background noise of the Great Hall - even with the wind chest of the Rieger organ in idle mode. For manuals and pedals you can use the regular pitch ranges or a mapping adapted for keyboards with 88 keys. "Tremulant" changes the air supply and causes a tremolo and light vibrato. Your organ playing becomes even more expressive with the "swell" effect for individual or all manuals, which simulates the effect of a swell box in which the pipes are gradually sealed off.
The original recordings were made with the ambience of the Great Hall in the Vienna Konzerthaus. With a variety of masterfully coordinated mixer presets, however, you can adapt the organ's environment and reverb to the sound of your project. There are mixer presets in the categories Standard & Style (with presets such as Messiaen, Toccata & Fugue, Animated Fairytale, Pop Hymn), Concert Venues (including the various halls of the Wiener Konzerthaus and The Sage Gateshead), Scoring Stages (Synchron Stage Vienna, Teldex Berlin, ORF Sendesaal), and Sacred Places (chapels and churches).
Purchasing a VSL library also entitles you to download the Vienna Instruments software player free of charge, which contains the Vienna Ensemble mixing and host software.
PC Windows 7/8/10 (last update, 32/64-bit), Intel Core 2 Duo or AMD Athlon 64 X2

macOS 10.10 (last update) or higher, Intel Core 2 Duo

2 GB RAM (4 GB recommended)

VIENNA KEY (Vienna Symphonic Library USB copy protection plug) or other USB eLicenser (e.g. from Steinberg or Arturia)

eLicenser Control Center Software (the latest version can be found at

 

www.eLicenser.net

 

)
free hard disk space according to the following 

 

table of space requirements
Other system configurations can work, but are not actively supported.
Recommended
PC Windows 7/8/10 (last update, 64-bit), Intel i5 / i7 / Xeon

macOS 10.12 (or higher), Intel i5 / i7 / Xeon

4 GB of RAM

SSD (M2, Sata 6 or USB3 / 3.1 UASP support) or separate HDD (7200 rpm or faster)

AU / VST / AAX compatible host program (also runs stand-alone)

AAX version requires Pro Tools 10.3.5 or higher

88 key master keyboard
Product activation:
Vienna Instruments and software require a ViennaKey !
The USB dongle from eLicenser (Steinberg compatible) is not included in the Vienna Instruments, but must be purchased separately. So you have to order at least one ViennaKey or Steinberg eLicenser together with your first VSL product. Each ViennaKey can store up to 100 product licenses.
You also need an internet connection on any computer to authorize a ViennaKey.
---