Best Service
ETHNO WORLD 6 VOICES
Regular price
R 5,310.00
R 0.00
Unit price
per
The ultimate sample library for ethnic voices from around the world
ETHNO WORLD 6 Voices is the highlight of a library that has grown steadily in over 16 years and has been continuously improved. There has never been such a comprehensive and high-quality library with ethnic vocal recordings. ETHNO WORLD 6 Voices sets completely new standards for the musical use of ethnic voices. Never before has a library been so comprehensive, sonically recorded and programmed so precisely and at the same time so innovative to play.

The award-winning film composer Marcel Barsotti (including The Pope, The Miracle of Bern) has recorded a gigantic selection of solo voices, phrases and choirs from all over the world and from a wide range of cultures.
ETHNO WORLD 6 Voices consists of approximately 177 patches with solo voices, phrases and choirs. The library has a size of 8.68 GB (uncompressed)  and 5,230 samples. All recordings are available in a resolution of 24 bit and 44.1 kHz.
Singers from all over the world were involved in the recordings, which were made under the direction of music producer Andreas Hofner. The recordings took place in various studios on site and using high-quality technology such as Neumann and Brauner microphones, SPL preamplifiers and RME converters.
Library size approx. 7 GB (using Kontakt´s lossless compression)
Requires Kontakt / Kontakt Player 5.6 or newer
CONTENT
ETHNO WORLD 6 Voices comprises an incredible spectrum of voices from the most diverse regions of the world. Here you will find suitable voice recordings for folkloric as well as for modern music. The library offers extensive solo voices, phrases and choirs from Cameroon, Guinea, China, Iran, Turkey, Bulgaria, North Africa, Spain and the Ukraine. The voices and choirs have been expanded with new contributions from Africa, Arabia, Jamaica and India. For example, the Houari Algerian Rai Singer is not only perfect for an authentic atmosphere, but can also be used for dance and hip-hop.
Mongolian overtone chants, Balinese singing, Chinese opera voices, Arabic, Indian and African choirs and solo voices as well as native American singing are equally exceptional. This provides a diverse selection of voices that can be used in the broad field of film music, for folkloric and traditional music, but also for modern music productions.
With its vocal recordings, ETHNO WORLD 6 Voices is the perfect library for film and TV productions that require the authentic sound of a specific region. Of course, the voices are also suitable for music productions of various styles, from pop to ambient to dance, which want to integrate these timbres.
A detailed list of all votes can be found under

 

"More information"

 

.
THE INTERFACE
ETHNO WORLD 6 Voices uses the free Kontakt 5 Player or the full version Kontakt 5 from Native Instruments as a sample engine. For the new version, the graphical user interface has been completely redesigned and provided with an ultra-fast user interface. There are numerous editing options and innovative functions. ETHNO WORLD 6 Voices supports the Native Control Standard (NKS), which enables tagging and interaction with the NI Komplete Kontrol keyboards and NI machines.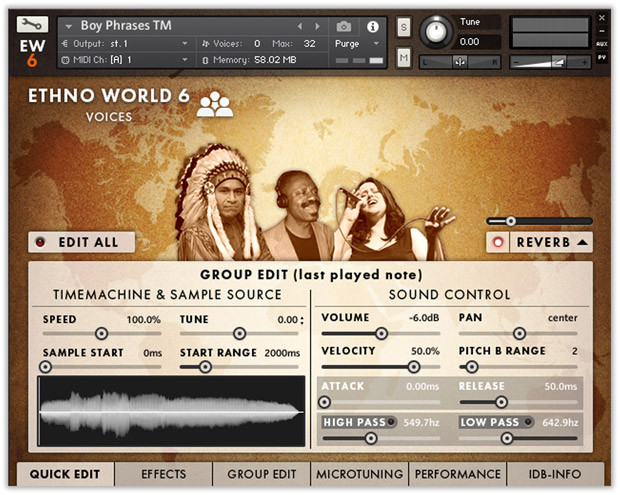 There is also a new waveform display and display of the sample start offset as well as clearer operation of the effects, where the delay values ​​are now displayed with tempo-related notes and milliseconds. The Timemachine (TM PRO) allows significantly improved audio properties with material adapted to the tempo, especially with polyphonic licks and loops.
Not only the sounds newly recorded for ETHNO WORLD 6 Voices benefit, but also all sounds from ETHNO WORLD 5, which have been completely revised in this regard and for which a clearer menu navigation has been created by reducing the number of patches.
Thanks to the integrated folding reverb, the voices sound very natural. Thanks to high-quality filters, LFO, tune, automation, harmonizers and other effects, all instruments and voices can be effectively alienated and edited as required and thus completely new soundscapes can be created in modern music and film productions.
Instrumental expansion
If you want to record completely authentic productions of folkloric or traditional music, then the library ETHNO WORLD 6 Instruments with its huge stock of string and wind instruments as well as drums and percussion is the perfect addition to ETHNO WORLD 6 Voices.

Requires Kontakt Player 5.6.1
This product ships with the latest NI Kontakt Player!

 

Please refer to the product description with which contact version you can use the product.
They want more?
This library entitles you to purchase the reduced crossgrade of the full version of KONTAKT from Native Instruments.
The following list shows whether the relevant contact version is compatible with your operating system:
Mac
Contact 4:
    OS X 10.6 & 10.7 = up to 4.2.4

    From OS X 10.8 = no longer supported
Contact 5:
    OS X 10.6 = Up to 5.0.3

    OS X 10.7 = Up to 5.3.1

    OS X 10.8 = 5.0.3 - 5.5.1

    OS X 10.9 = 5.3.0 - 5.6.6

    OS X 10.10 = 5.3.0 - 5.7.3

    OS X 10.11 = 5.5.1 - Latest

    Mac OS 10.12 = 5.6.1 - Latest

    Mac OS 10.13 = Latest

    Mac OS 10.14 = Latest

    Mac OS 10.15 = Latest
Contact 6:
Mac OS 10.12 - 10.15 (latest update)
Windows
Contact 4:
    XP = up to 4.2.4

    Vista = up to 4.2.4

    Windows 7 = up to 4.2.4

    Windows 8 & 10 = no longer supported
Contact 5:
    XP = up to 5.2.0

    Vista = up to 5.2.0

    Windows 7 = Latest

    Windows 8 & 10 = Latest
Contact 6:
Windows 7, 8 or 10 (latest service pack, only 64-bit)
FOR "CONTACT" APPLIES TO ALL SYSTEMS:
1GB free hard disk space for the application

additional hard disk space according to the library size
INTERFACES
Stand-alone | VST | Audio Units | ASIO | CoreAudio | WASAPI | AAX Native (Pro Tools 10 or higher)
You need Native Access to install, register, activate and update your products. Start the Native Access software and log in with your Native Instruments credentials to begin setup.
For successful activation, Native Access requires a working internet connection.
An offline activation  on another computer can NOT be performed. 
---