VIR 2
ELECTRI6ITY
Regular price
R 7,050.00
R 0.00
Unit price
per
Eight of the most famous and most distinctive guitar sounds!
The ultimate virtual electric guitar instrument
Electri6ity is an epic electric guitar virtual instrument containing the most advanced, detailed, and versatile collection of electric guitars ever made in a virtual instrument. Electri6ity contains eight of the most famous and distinguished guitar tones from the history of the instrument: the Strat, Tele, P90, Les Paul, Rickenbacker, Danelectro Lipstick, ES335, and L4. More than 24,000 24-bit samples were taken of each guitar. Three pickup options (front, rear, and mixed) are available on every guitar. An impressive amount of samples allow you to play every articulation on every fret of every string for an absolutely authentic guitar sound. Downstrokes, upstrokes, seamless velocity layers, ghost notes, mutes, harmonics, hammer-ons, pulloffs, slides, releases, and FX...the sky is the limit with Electri6ity.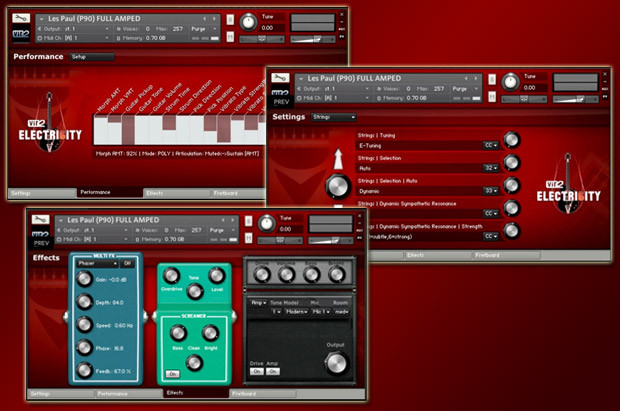 Electri6ity also utilizes the most advanced scripting to date, including the revolutionary Articulation Morphing Technology (A.M.T.) and Velocity Morphing Technology (V.M.T.), allowing for the seamless morphing from dead mute to sustain or from soft to loud. Advanced string and fretboard positioning is performed by artificial intelligence which adapts to your playing. Play fluid lines in real time using the legato engine, play chords using the chord detection engine which understands almost two thousand different chords, easily double-track, do unison bends, strum, pick, trill, tremolo pick, slide...all of this is built into the Electri6ity engine and full editing control is given over each of these parameters.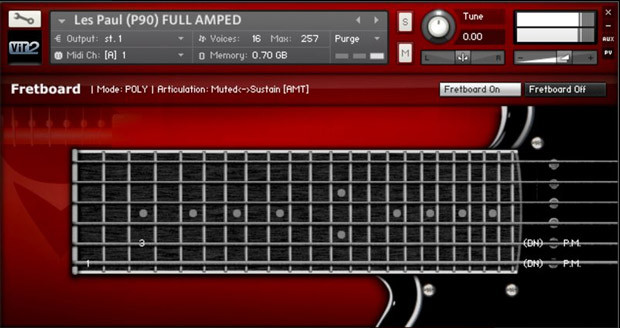 All samples in Electri6ity are recorded clean - a direct input from the guitar. Use Electri6ity´s built-in multieffects (phaser, flanger, chorus, reverb, and delay), Screamer module, and amp simulation (British, Classic, Clean, Jazz, Metal, Modern, and Rock) to make the sound come alive, or use your own guitar amps or simulators to multiply the possibilities.
Features
Recordings of eight guitars - Strat | Tele | P90 | Les Paul | Rickenbacker | Danelectro Lipstick | ES335 | L4

Three pickup positions - Front | Rear | Front + Rear Blend

Recorded variations per sample - Downstroke/upstroke | Picked/strummed | Seamless velocity layers | More than 24,000 recorded samples per guitar, recorded at 24-bit 44.1KHz fidelity

Playing modes - Polyphonic | Monophonic | Legato (Sustain/Muted) | All modes can be combined with a Slide Mode for real-time slides from each fret to each other fret.

Articulation list - Sustain Neck <> Bridge | Sustain <> 5th / Octave Pinch Harmonics | Dead Notes <> Muted <> Half-Muted | Ghost Notes Clean | Ghost Notes Dirty | Chucka-Chuckas | Harmonics | Hammer On (played after sustain note) / Hammer On (tapped) | Pull Off (played after sustain note) / Pull Off (tapped) | One and two frets Slides Up / Down | Slides (from and to every available fret) | FX Samples (Screams, Scratches, Whammy-FX, etc.)

Release types - Finger Noise | Finger Noise Short | Mixed I | Mixed II | Hand Mute (fret can be selected) | Palm Mute | Slide Down Short | Slide Down Medium | Slide Down Long | Slide Down (1 fret, short) | Slide Up (1 fret, short) | Slide Noise Down | Slide Noise Up | Pick Noise
Requirements
The latest NI Kontakt Player is included in this product!

Please check the product description for the required Kontakt version.
You want more?
This library qualifies for the reduced Crossgrade of full KONTAKT at Native Instruments.
The following list shows, whether the respective Kontakt version is compatible with your operating system:
Mac
Kontakt 4:
OS X 10.6 & 10.7 = until 4.2.4
OS X 10.8 and higher = no longer supported
Kontakt 5:
OS X 10.6 = until 5.0.3
OS X 10.7 = until 5.3.1
OS X 10.8 = 5.0.3 - 5.5.1
OS X 10.9 = 5.3.0 - 5.6.6
OS X 10.10 = 5.3.0 - 5.7.3
OS X 10.11 = 5.5.1 - latest
Mac OS 10.12 = 5.6.1 - latest
Mac OS 10.13 = latest
Mac OS 10.14 = latest
Mac OS 10.15 = latest
Kontakt 6:
Mac OS 10.12 - 10.15 (latest update)
Windows
Kontakt 4:
XP = until 4.2.4
Vista = until 4.2.4
Windows 7 = until 4.2.4
Windows 8 & 10 = no longer supported
Kontakt 5:
XP = until 5.2.0
Vista = until 5.2.0
Windows 7 = latest
Windows 8 & 10 = latest
Kontakt 6:
Windows 7, Windows 8, or Windows 10 (latest Service Pack)
FOR ALL SYSTEMS:
1GB free disk space

Additional hard drive space according to the library's size
SUPPORTED INTERFACES
Stand-Alone | VST | Audio Units | ASIO | CoreAudio | WASAPI | AAX Native (Pro Tools 10 or higher)
Product activation:
An internet connection is required to authorize / activate the product.
---