Vienna Symphonic Orchestra
CHAMBER STRINGS BUNDLE
Regular price
R 3,360.00
Sale price
R 9,450.00
Unit price
per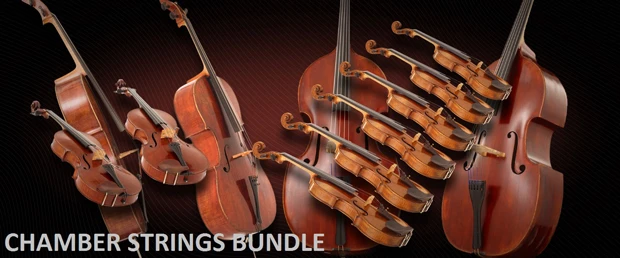 Save up to 30% compared to individual orders!
The large Vienna Instruments DVD Collections are the most powerful orchestral virtual instruments that have ever been developed. The collections, divided into the various instrument categories, offer the complete playing styles of the respective instruments with which you can achieve the highest quality and most authentic results.
With this homogeneous ensemble of 15 strings (6 violins, 4 violas, 3 cellos and 2 double basses) the entire spectrum of chamber music can be realized. Many composers also use the CHAMBER STRINGS for the realization of "large" orchestral scores in order to double melody-leading lines and thus give the string sound a higher level of precision and more expression. CHAMBER STRINGS I already contains all imaginable variations including Bartók pizzicati, glissandi or artificial flageolets, on CHAMBER STRINGS II you will find the variations of CHAMBER STRINGS I played with mutes (con sordino).
Included collections: Chamber Strings I & Chamber Strings II
Scope of the library
Standard Library: Samples 34.864 | Download size 22.6 GB | Installed file size 40.4 GB

Full Library: Samples 89,360 | Download size 22.6 GB | Installed file size 40.4 GB
Purchasing a VSL library also entitles you to download the Vienna Instruments software player free of charge, which contains the Vienna Ensemble mixing and host software.
PC Windows 7/8/10 (last update, 32/64-bit), Intel Core 2 Duo or AMD Athlon 64 X2

macOS 10.10 (last update) or higher, Intel Core 2 Duo

2 GB RAM (4 GB recommended)

VIENNA KEY (Vienna Symphonic Library USB copy protection plug) or other USB eLicenser (e.g. from Steinberg or Arturia)

eLicenser Control Center Software (the latest version can be found at 

www.eLicenser.net

 )

free hard disk space according to the following  

table of space requirements
Other system configurations can work, but are not actively supported.
Recommended
PC Windows 7/8/10 (last update, 64-bit), Intel i5 / i7 / Xeon

macOS 10.12 (or higher), Intel i5 / i7 / Xeon

4 GB of RAM

SSD (M2, Sata 6 or USB3 / 3.1 UASP support) or separate HDD (7200 rpm or faster)

AU / VST / AAX compatible host program (also runs stand-alone)

AAX version requires Pro Tools 10.3.5 or higher

88 key master keyboard
Product activation:
Vienna Instruments and software require a ViennaKey !
The USB dongle from eLicenser (Steinberg compatible) is not included in the Vienna Instruments, but must be purchased separately. So you have to order at least one ViennaKey or Steinberg eLicenser together with your first VSL product. Each ViennaKey can store up to 100 product licenses.
You also need an internet connection on any computer to authorize a ViennaKey.
---