Vienna Symphonic Orchestra
BRASS BUNDLE
Regular price
R 10,520.00
Sale price
R 31,325.00
Unit price
per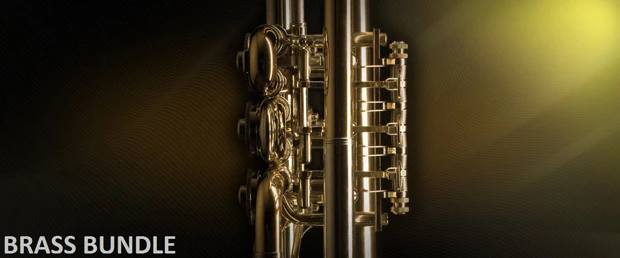 Save up to 30% on this bundle!
Blow Your Horn!
With this bundle you get the entire range of symphonic orchestra brass instruments and more. Brass I includes the standard instrumentation with trumpet, Viennese horn, tenor trombone and tuba (each recorded solo and in three-player ensembles). Brass II expands the spectrum with piccolo and bass trumpet, triple-horn, bass and contrabass trombone, contrabass tuba, Wagner tuba and the warm sounding cimbasso of the tuba family, to accommodate any large romantic or modern orchestral score.
A specialty of the Brass II Collection is the "Epic Horns" sample set, a massive sounding body of eight double horns, well-known for its use in many Hollywood action scores. The included Special Brass Collection contains less common instruments such as cornet, alto trombone and euphonium, as well as the six "Fanfare Trumpets" (three trumpets in Bb and three trumpets in C), the perfect companion to the eight "Epic Horns" of the Brass II Collection.
Included Collections: Brass I, Brass II, Special Brass, Dimension Brass I and II, Trumpet (Bb), Trumpet (Bb, muted) & Flugelhorn
Library Content
Standard Library: Samples 221.708 | Download Files Size 79,2 GB | Installed File Size 159,0 GB

Full Library: Samples 439.161 | Download Files Size 79,2 GB | Installed File Size 159,0 GB
Your purchase of any VSL library entitles you to download the free Vienna Instruments Player software that includes the Vienna Ensemble mixing host.
PC Windows 7/8/10 (latest update, 32/64-bit), Intel Core 2 Duo or AMD Athlon 64 X2
macOS 10.10 (latest update) or higher, Intel Core 2 Duo
2 GB RAM (4 GB recommended)
VIENNA KEY (Vienna Symphonic Library USB protection device) or other USB eLicenser (e.g., from Steinberg or Arturia)
eLicenser Control Center software (get the latest version from

 

www.eLicenser.net)
free hard drive space according to

 

This Library Size Chart
Other configurations may work but are not actively supported.
Recommended
Windows 7/8/10 (latest update, 64-bit), Intel i5/i7/Xeon
macOS 10.12 (or higher), Intel i5/i7/Xeon
4 GB RAM
SSD (M2, Sata 6 or USB3/3.1 UASP Support) or separate HDD (7200 rpm or faster)
AU/VST/AAX compatible host (also works stand-alone)
AAX version requires Pro Tools 10.3.5 or higher
88 key master keyboard
Product activation:
Vienna Instruments require the ViennaKey!
This USB protection device by eLicenser (by Steinberg compatible) is not included in any collection, it is a separate item you have to get additionally. So you'll have to order at least one ViennaKey or Steinberg eLicenser with your first VSL purchase. Each dongle can store up to 100 product licenses.
Additionally an internet connection on any computer is required to authorize a VSL product.
---