Vienna Symphonic Orchestra
BIG BANG ORCHESTRA SOLARIS - FX WOODWINDS
Regular price
R 1,920.00
R 0.00
Unit price
per
Big Bang Orchestra: Solaris - FX Woodwinds
This completely re-recorded Big Bang Orchestra library contains single notes and phrases in the categories "Low Winds" and "High Winds".
Deep woodwind ensemble (8 musicians)

High woodwind ensemble (10 musicians)

Tones played in unison and octaves in a variety of playing styles

Clusters, runs, arpeggios

Tempo in sync with the host or freely changeable

Recorded with a multi-microphone setup in the Synchron Stage Vienna
The "Low Winds" ensemble consists of three contrabassoons, two bassoons, one contrabass clarinet and two bass clarinets. The fundamental tones recorded together by the eight musicians were played as short and long tones, espressivo, short and long swelling, sforzato, sforzatissimo and with fluttering tongue. All playing styles are played in unison or octaves and also available as a cluster. With a special crossfade patch you can crossfade between unison and cluster playing styles.
The "High Winds" ensemble consists of a piccolo, three flutes, two oboes and four clarinets. In addition to long notes in unison and in octaves, the welded musicians from the Synchron Stage Orchestra shine with their virtuoso ensemble playing with runs and arpeggios in various scales and chords. The runs are available in all major and minor keys as well as in modal, chromatic and whole-tone scales. As a variant, there is a "Perform Octave" patch with which you can play a starting note of any length and trigger the octave sequence by pressing the target note one octave higher or lower.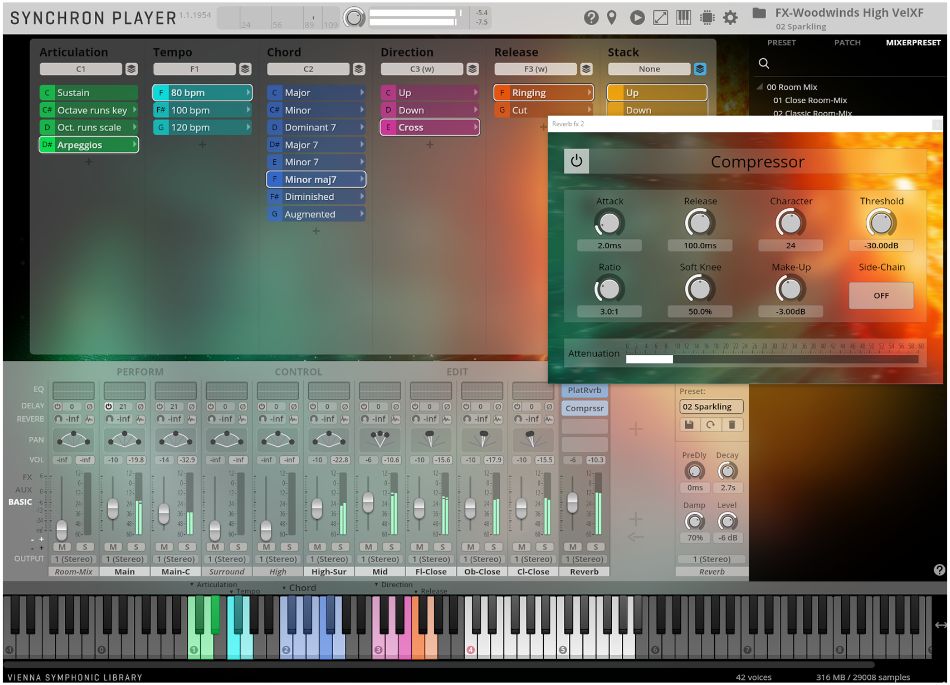 The arpeggios were recorded as various major, minor, seventh, diminished and exaggerated chords. You can choose the highest or lowest note as the starting note, so the loops start from above or below. You can exit at any time by releasing the button, whereby you can also select the highest or lowest tone or "cut off" as the end tone. In addition, there are so-called cross-patches, where the arpeggios start from above as well as from below and run in opposite directions, creating wonderful textures. It has never been easier to have an entire woodwind ensemble play lively and rhythmically perfect patterns with the press of a single key. The arpeggios played as sixteenth note triplets are in tempos 80,
System requirements
PC Windows 7/8/10 (last update, 64-bit), Intel Core 2 Duo or AMD Athlon 64 X2

macOS 10.10 (last update) or higher, Intel Core 2 Duo

SSD (M2, Sata 6 or USB3 / 3.1 UASP support) for the sample content

8 GB RAM (16 GB or more recommended)

AU / VST / AAX Native compatible host program (AAX version requires Pro Tools 10.3.5 or higher)
Other system configurations can work, but are not actively supported.
Recommended
PC Windows 7/8/10 (last update, 64-bit), Intel i5 / i7 / Xeon

macOS 10.12 (or higher), Intel i5 / i7 / Xeon

16 GB RAM or more, depending on your registered products

88 key master keyboard
This product requires activation!
This can either be done on your computer (without additional hardware) or alternatively on an iLok USB dongle that can be purchased separately . The iLok USB dongle can be plugged into any computer in order to use the protected software on several computers. Your licenses can be managed as you like using the iLok License Manager and protected against loss or theft by additional insurance ( Zero Downtime with TLC ).
To activate the product you need an internet connection on any computer and a free user account on www.ilok.com . Use the Vienna Assistant to download and install your software products and sample libraries authorized via iLok  .
Please check with the software manufacturer which iLok version is required as a minimum if you want to use a hardware iLok!
---