Toontrack
BIG BANG ORCHESTRA: REGULUS - FX STRINGS
Regular price
R 3,630.00
R 0.00
Unit price
per
Big Bang Orchestra: Regulus - Stringscapes
Pulsating soundscapes, tense clusters, rises, hits and action patterns - Big Bang Orchestra: Regulus contains a wide variety of effects and extraordinary playing styles that were recorded for Synchron FX Strings I.
Ready-to-use musical sound modules - from spherical surfaces to pulsating patterns

Large, 50-piece string orchestra, divided into 6 groups:

14 first violins, 10 second violins, 6 first violas, 6 second violas, 8 cellos, 6 double basses

Maximum flexibility in combination for endless creative possibilities

16 mixer channels for your own personal sound

Numerous mixer presets, from optimized stereo room mixes to immersive audio (3D)
The soundscapes and loops played by a 50-piece string orchestra inspire experimentation, and all the building blocks can be combined with one another. Complex musical structures only unfold by pressing a key or two on the keyboard. From the delicately painted whisper in the high register to the muffled rumble in the lowest registers - you can effortlessly provide changing timbres and intensities with the help of predefined controllers.
Like its big brother, Synchron FX Strings I, BBO: Regulus has ready-to-use tonal and atonal sound modules in the following categories: Spherical Textures, Character Textures, Glissandos, Rises and Hits, Clusters, Harmonic Effects, Pizzicato Effects, Special Pads and "Inspiration Crossfades".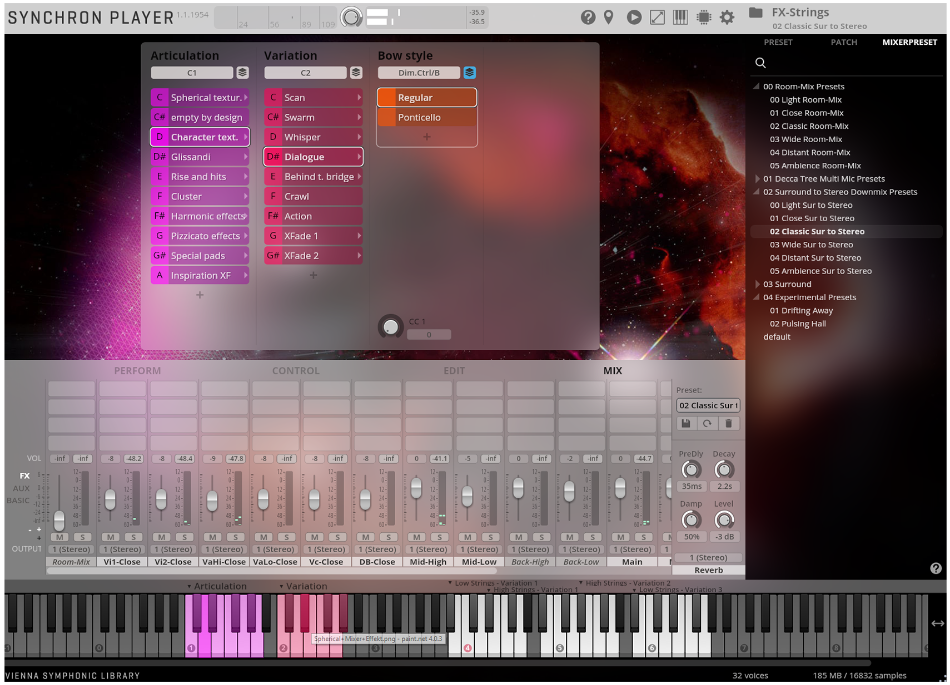 The complete ensemble was recorded with 50 microphones, the signals of which are now mixed down and available on 16 channels of the synchron player's internal mixer. With the multitude of mixer presets you are equipped for every situation, from close miking to Decca tree to surround and high surround, from stereo to surround output to 3D audio.
BBO: Regulus contains an extremely extensive library with the effect categories of Synchron FX Strings I, even including the microphone positions of the full library. When you upgrade to Synchron FX Strings I, you get twice the amount of data, with additional half-tremolos / ponticelli, denser movements, faster-played patterns, textures based on the alpha chord, slower glissandi and runs, and more.
System requirements
PC Windows 7/8/10 (last update, 64-bit), Intel Core 2 Duo or AMD Athlon 64 X2

macOS 10.10 (last update) or higher, Intel Core 2 Duo

SSD (M2, Sata 6 or USB3 / 3.1 UASP support) for the sample content

8 GB RAM (16 GB or more recommended)

AU / VST / AAX Native compatible host program (AAX version requires Pro Tools 10.3.5 or higher)

VIENNA KEY (Vienna Symphonic Library USB copy protection plug) or other USB eLicenser (e.g. from Steinberg or Arturia)
Other system configurations can work, but are not actively supported.
Recommended
PC Windows 7/8/10 (last update, 64-bit), Intel i5 / i7 / Xeon

macOS 10.12 (or higher), Intel i5 / i7 / Xeon

16 GB RAM or more, depending on your registered products

88 key master keyboard
Product activation:
Vienna Instruments and software require a ViennaKey !
The USB dongle from eLicenser (Steinberg, formerly Syncrosoft) is not included in the Vienna Instruments, but must be purchased separately. So you have to order at least one ViennaKey together with your first collection. It is automatically placed in the basket with the first instrument, but can be deleted again if you do not need it. Each ViennaKey can store up to 100 product licenses.
You also need an internet connection on any computer to authorize a ViennaKey.
---