Vienna Symphonic Orchestra
VIENNA MIR PRO
Regular price
R 10,965.00
R 0.00
Unit price
per
Vienna MIR PRO is a network-capable mixing solution for Mac and PC, based on Multi Impulse Response convolution. It merges all parts of the creative process – composition, orchestration and mixing – into a single intuitive workflow. The software offers a holistic approach to the spatial modeling of virtual orchestras, allowing the user to interact with the players more like a conductor than an engineer.
Its innovative multi-parameter Control Icon replaces conventional faders and pan pots and offers concise control for positioning each instrument on the virtual stage, changing its volume and stereo width, and even rotating it within a fluid three-dimensional environment.
Please note that Vienna MIR PRO requires at least one RoomPack with dedicated impulse responses. You may choose from various Vienna MIR RoomPacks that are available separately.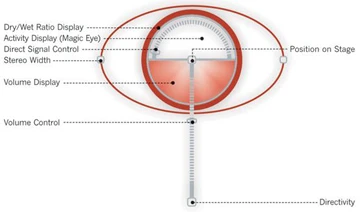 Vienna MIR PRO combines specific directional frequency profiles with reflectional information from every instrument, assembling all of the acoustic interactions into an accurate and satisfying recreation of musicians playing their instruments in place and in space. Vienna MIR PRO is much more than just "a multi-sample" of a hall – and this is where it far surpasses any other convolution reverb available on the market. Vienna MIR PRO is multi-source, multi-directional, multi-positional, and multi-format.
Vienna MIR PRO comes as a dedicated plug-in in the formats AU, VST, AAX Native and RTAS, allowing you to run it directly in your favorite sequencer or DAW. Additionally, our cross-platform MIDI and audio LAN solution Vienna Ensemble PRO 5 allows for a comfortable one-click integration of Vienna MIR PRO.
Features
AU/VST/AAX Native/RTAS plug-in for direct integration with most modern DAWs.
Optional one-click integration in Vienna Ensemble PRO 5 (sold separately).
Full latency compensation.
Graphical user interface depicting 3D renderings of the selected room (venue maps) with scroll wheel zooming.
Intuitive multi-parameter Control Icon for quick interaction with instruments and visual feedback – and direct access to the connected instrument.
Character Presets (such as 'Air', 'Silk', 'Bite', 'Distant', 'Warm') for quick timbral changes, available for most Vienna Instruments.
GUI options such as Instrument Grouping, Hide Icon, Instrument Focus.
Room EQ and Master EQ.
Pre-listening feature before selecting a room.
Adjustable Room Tone (natural noise floor).
Microphone Position Offset allowing for movement of virtual microphones in the room.
Reverb length can be changed individually for each microphone position.
Enhanced possibilities for defining the format and for the handling of the virtual main microphone(s), including the option for using a secondary microphone in most rooms.
Works with any commonly used sampling frequency, up to 192 kHz.
MIRacle plug-in – Direct access to a tailor-made algorithmic global reverb for "sweetening".
In combination with Vienna Ensemble PRO 5
LAN capability.
Direct and/or stem outputs.
3rd Party VSTi/AU hosting.
Audio inputs.
AUX sends for individual instruments and input signals.
Automation of user-defined parameters.
MIDI remote control of user-defined parameters.
Learn All/Optimize All for Vienna Instruments.
Master Tune for Vienna Instruments.
Please note: Vienna MIR PRO comes with one license per purchase. If you´d like to use Vienna MIR PRO on multiple computers simultaneously, Vienna MIR PRO 24 will be a great and cost-effective option to get additional licenses.
Requirements
For smaller projects, e.g., users of the Vienna Special Editions:

PC Intel i7-Quad CPU or better, with Windows 7 64-bit
Mac Intel i7-Quad CPU or better, macOS 10.10 or newer
12 GB RAM
For larger projects:
PC Dual Intel Quad Core XEON 5520 or better, with Windows 7 64-bit
Mac Pro 8-Core Xeon 5520 "Gainstown" or better, with macOS 10.10 or newer
24 GB RAM
Further requirements:
DirectX 10-capable video card with support for OpenGL 2.1 (Windows)
AU/VST/VST3/AAX Native/RTAS (OS X) compatible host; also works stand-alone with Vienna Ensemble PRO
ViennaKey (Vienna Symphonic Library USB protection device) or other USB eLicenser (e.g., from Steinberg or Arturia)
eLicenser Control Center software (get the latest version from

 

www.eLicenser.net)
Vienna MIR RoomPack with dedicated impulse responses (sold separately).
 Product activation:
Vienna Instruments require the ViennaKey!
This USB protection device by eLicenser (by Steinberg, formerly Syncrosoft) is not included in any collection, it is a separate item you have to get additionally. So you'll have to order at least one ViennaKey with your first purchase. It will be put inside the shopping basket automatically but can be deleted if not required. Customers who order the complete SYMPHONIC CUBE will get one ViennaKey for free (not shown in the basket). If you already own another eLicenser USB protection device (e.g., from Steinberg or Arturia), you can use it for the VIENNA INSTRUMENTS, too. Each dongle can store up to 100 product licenses.
Additionally an internet connection on any computer is required to authorize a VSL product.
AAX native, AU, Mac, RTAS, VST, Win
---